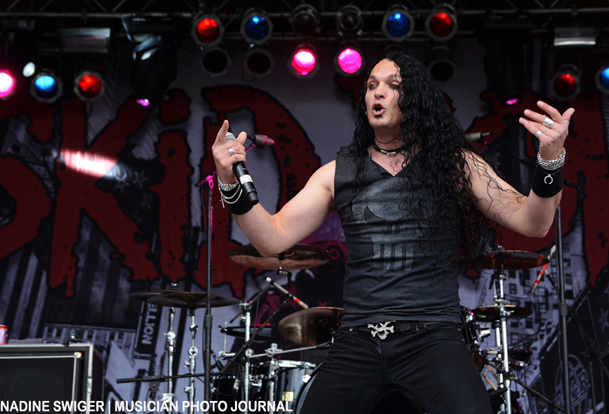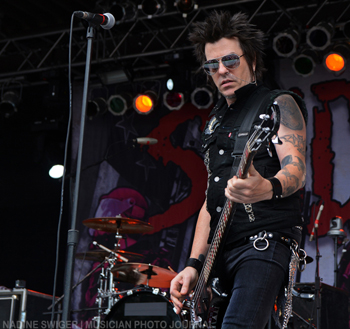 It was the "Youth Gone Wild" when Skid Row played The New York State Fair!
Skid Row wasn't messing around! They took the stage, hitting hard with "Slave To The Grind!" and following it up with "Sweet Little Sister" and "Piece Of Me." We were only 3 songs in, and you knew it was going to be a killer rock show! The sound was on point, the band was tight as ever and ZP Threat was slaying it on the vocals. Not only does he have the range, his vocals are so solid and strong, it brings new levels to the Skid Row songs we all know and love!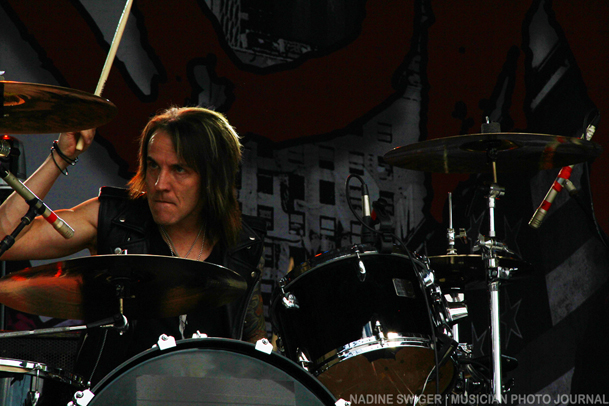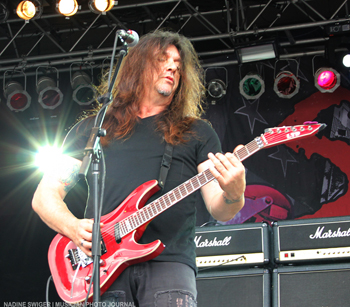 They went on to play more Skidz favorites – "Big Guns," "Makin' A Mess" "18 and Life" and even "Rattlesnake Shake!" to name a few. Bassist Rachel Bolan took a minute to point out the different band t-shirts he saw fans wearing around the crowd (Slayer, Kiss, Anthrax, Motley Crue, etc) before going into their dedication to the Ramones, playing "Phycho Therapy."
One of my favorite parts of a Skid Row show is during "Monkey Business" when Rachel and drummer Rob Hammersmith will break the song down and Dave "Snake" Sabo and Scotti Hill will go into a guitar solo battle. There really is never a winner as they are both incredibly talented guitarists and really just fun to watch as they go back n forth, smoking up the stage with some great licks. This time around, they invited a young inspiring photographer to capture the moment.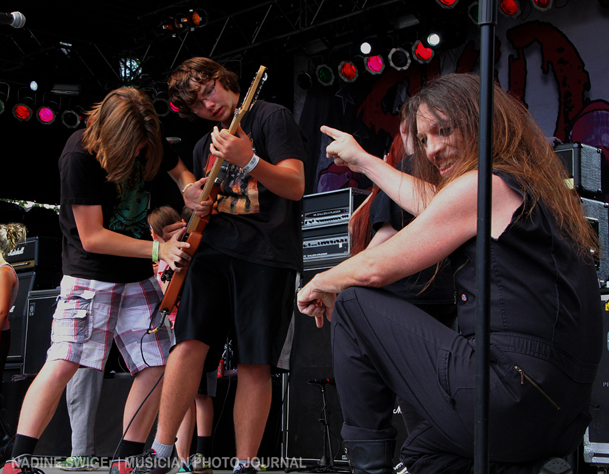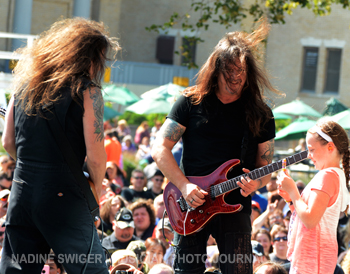 Of course, a Skid Row show wouldn't be complete without "I Remember You" or "Youth Gone Wild!" This time around – Skid Row did something truly unique with their "Youth Gone Wild" performance. They invited a bunch of kids up on the stage to help out with the last song of the set. It really brought a young upbeat and innocent energy to the stage – you know that excitement only a child can possess (kinda like that feeling on Christmas morning when they first see Santa's presents under the Christmas tree).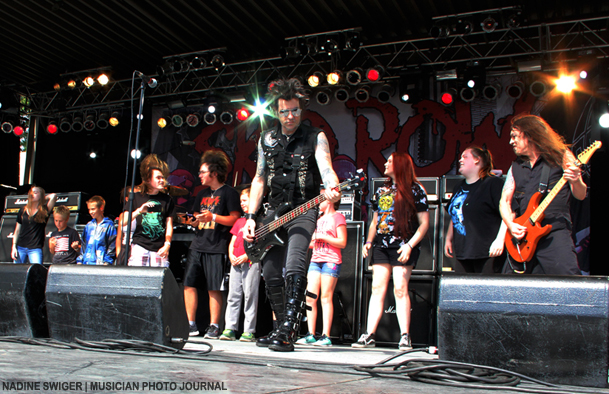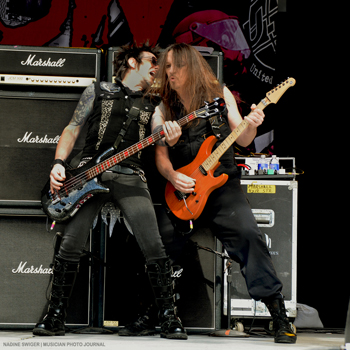 The kids rocked out with a fist in the air and sang along. Snake shared his mic with one of the young ladies for backing vocals, ZP invited a young boy downstage to sing and Scotti not only let a few young fans share in his spotlight, he let them take his guitar and jam the last few bars! It was really an experience that will not only last a lifetime for the kids but as a spectator – it was truly something special to witness as well!
For fans young and old – Skid Row shows are a must!! Keep an eye out for when they hit your area as they continue to rock across the USA (with one date in Indonesia) until November. They have a short break before kicking off their European tour March 2 in Dublin. The tour will run until May 31st in Spain. Check tour dates listed below and their website for latest details.
__________________________________________________________________

PHOTO GALLERIES :
SKID ROW :: PHOTO GALLERY :: SYRACUSE NY


__________________________________________________________________

TOUR DATES :
.
September 15, 2017 Tunica MS @ TUNICA CASINO w/GREAT WHITE
September 23, 2017 Borneo Indonesia @ ROCK IN BORNEO
September 30, 2017 Brooks CA @ CACHE CREEK CASINO
October 07, 2017 Las Vegas NV @ SUNSET STATION AMPHITHEATER
October 08, 2017 Millcreek UT @ ROCKIN' BREWFEST
October 14, 2017 Atlantic City NJ @ HARRAH'S RESORT W/ QUEENSRYCHE
October 28, 2017 Panama City Beach FL @ FRANK BROWN PARK BIKE FEST
November 02, 2017 Charles IL @ ARCADA THEATER St
November 03, 2017 Detroit MI @ HARPO'S CONCERT THEATER
November 07, 2017 Dover NJ @ WDHA (Acoustic)
November 08, 2017 New York NY @ GRAMERCY THEATER NYC
November 09, 2017 Huntington NY @ THE PARAMOUNT
November 10, 2017 Uncaville CT @ Wolf Den
November 11, 2017 Sayreville NJ @ STARLAND BALLROOM
EUROPEAN TOUR 2018
March 2, 2018 Dublin @ ACADEMY
March 3, 2018 Belfast @ LIMELIGHT
March 5, 2018 Glasgow @ O2 ABC
March 6, 2018 Inverness @ IRON WORKS
March 7, 2018 Newcastle @ O2 ACADEMY
March 9, 2018 Sheffield @ CORPORATION
March 10, 2018 North Wales @ HARD ROCK HELL AOR FESTIVAL
March 11, 2018 London @ O2 SHEPARDS BUSH EMPIRE
March 12, 2018 Hull @ WELLY
March 14, 2018 Manchester @ ACADEMY 2
March 15, 2018 Cardiff @ CARDIFF UNI Y PLAS
March 16, 2018 Liverpool @ HANGAR 34
March 17, 2018 Coventry @ CASBAH
March 19, 2018 Norwich @ WATERFRONT
March 20, 2018 Bristol @ O2 ACADEMY
March 21, 2018 Brighton @ CONCORDE 2
March 22, 2018 Nottingham @ ROCK CITY
April 29, 2018 WIESBADEN, GERMANY @ SCHLACHTHOF
April 30, 2018 FREIBURG, GERMANY @ CRASH
May 01, 2018 BOCHUM, GERMANY @ ZECHE
May 02, 2018 MUNICH, GERMANY @ BACKSTAGE
May 04, 2018 REGENSBURG, GERMANY @ EVENTHALL AIRPORT
May 05, 2018 TELFS, AUSTRIA @ TELFS
May 07, 2018 SAARBURCKEN, GERMANY @GARAGE
May 09, 2018 MALMO, SWEDEN @ KB
May 11, 2018 HAUGESUND, NORWAY @ KARMØYGEDDON FESTIVAL
May 12, 2018 GIERDRUM, NORWAY @ GIERDRUM ROCKFEST
May 13, 2018 GOTHENBURG, SWEDEN @ STICKY FINGERS
May 14, 2018 STOCKHOLM, SWEDEN @ FRYSHUSET KLUBBEN
May 16, 2018 HELSINKI, FINLAND @ VIRGIN OIL
May 19, 2018 SAN MARTINO DI LUPARI, ITALY @ LA BASE LIVE FACTORY
May 20, 2018 BRUNICO, ITALY @UFO
May 21, 2018 RANICA, ITALY @ DRUSO
May 23, 2018 TBA
May 25, 2018 VALENCIA, SPAIN @ SALA REPUBLICA
May 26, 2018 A CORUŃA, SPAIN @ SALA PELICANA
May 28, 2018 ZARAGOZA, SPAIN @ SALA CLUB OASIS
May 29, 2018 BILBAO, SPAIN @ SALA SANTANA 27
May 30, 2018 MADRID, SPAIN @ SALA JOY SLAVA
May 31, 2018 BARCELONA, SPAIN @ SALA RAZZMATAZZ
________________________________________________________________________
LINKS:
SKID ROW : skidrow.com
_____________________________________________
_________________________________________________________________________