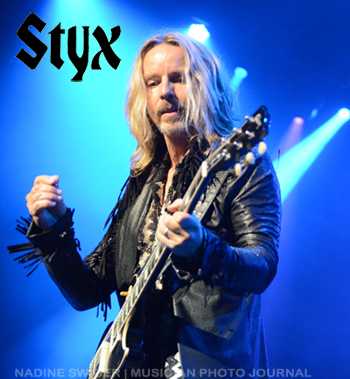 United We Stand and "United We Rock!" was the crowd at the Lakeview Amphitheater in Syracuse NY when REO Speedwagon, Styx and Don Felder took the stage. It was a night of perfection, true musicianship and Classic Rock performances at it's finest!
First up was one of guitarists' great – Don Felder formerly of The Eagles. What a wonderful way to kick off the night! He played so many of those Eagles tunes that we love like "Already Gone," "One of These Nights," "Witchy Woman," "The Long Run," "Heartache Tonight" and "Life in the Fast Lane!" Don Felder with his band: Shem Von Schreck (bass and vocals,) Stevie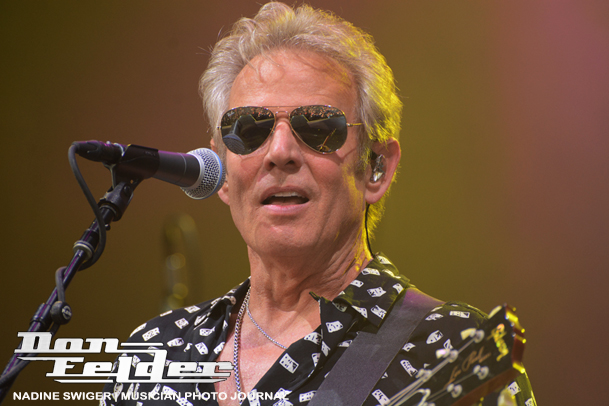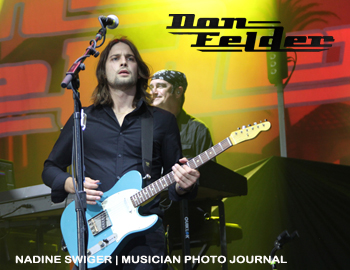 Distanislao (drums and vocals,) Timothy Drury (keys and vocals,) and Greg Suran (guitar and vocals.) sounded amazing as their set brought you right back in time!
One of the highlights is when Tommy Shaw of Styx join him on stage, as they did a special rendition of "Take It Easy" (Tommy duet with Don both singing and playing guitar). Felder closed out the night by inviting members of both REO Speedwagon and Styx to join him with a unique performance of his most popular song, "Hotel California." That is one killer song and a fun way to end his set.
After this tour – Don Felder is slated to do eight shows in one and half weeks, at the Hard Rock Resort in Riviera Maya, Mexico (See TOUR DATES below).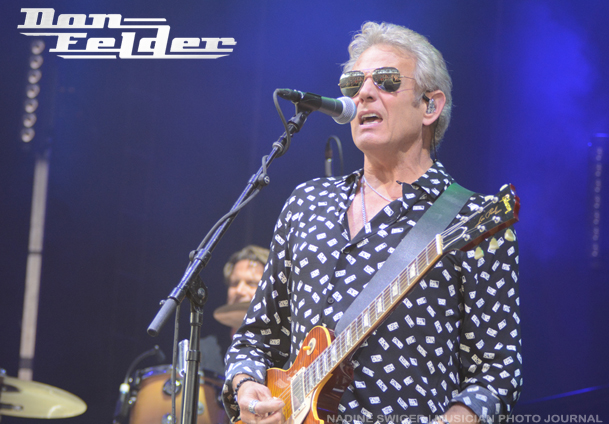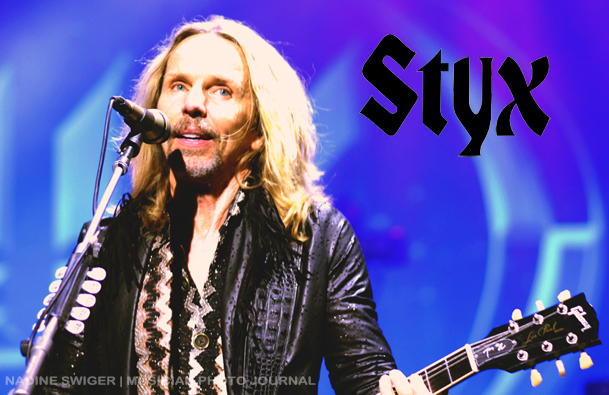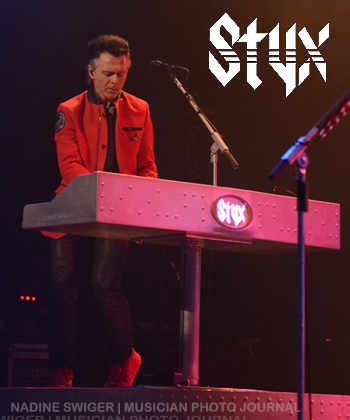 Next up was the night's first co-headliner – Styx. They took the stage with a bran new song "Gone Gone Gone" off their newest album "The Mission." It's a catchy tune that has the classic Styx sound that had the crowd on their feet!
Yes, you read that correct – after 14 years Styx recently released a new album which brings you back to the "The Grand Illusion," "Crystal Ball" era. They even took extreme measures to give you that sound as they recorded on tape (like they did in the 70's, rather than recording digitally). It's a concept album – taking the first man mission to Mars in 2033. It's a musical journey that any music fans will surely want to embark on!
Live, Styx has incredible harmonies, upbeat energy and a spot on sound that you take notice! Knowing this of their performances every time I see them, they always surpass my already high expectations, raise the bar on what a live show should sound like, and I'm always left wanting more!!!! And from the loud cheers, the crowd agree with me more!
They played the classic songs you wanted to hear – "Blue Collar Man (Long Nights)," "The Grand Illusion," "Fooling Yourself (The Angry Young Man)," "Too Much Time on My Hands" and "Come Sail Away" to mention a few. They also played a total of 3 new songs – "Gone Gone Gone," "Radio Silence" and "Khedive" which had a cool piano solo. The night wasn't complete without their encore of "Rockin' the Paradise" and "Renegade."
Styx will continue to tour in support of "The Mission" (see Tour Dates below).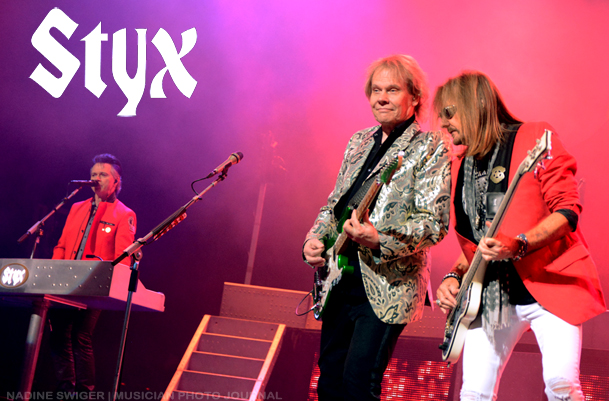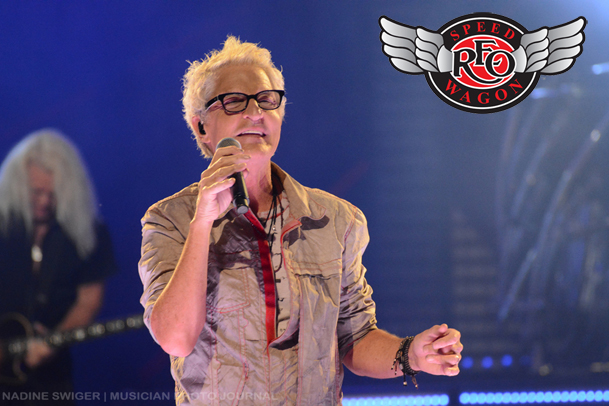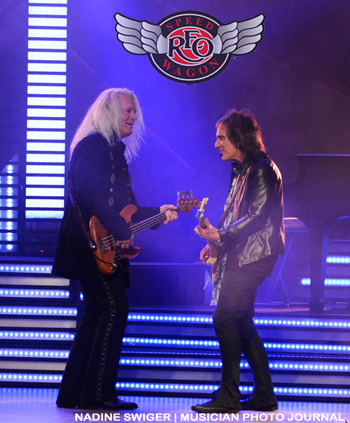 The classic rock song hits continued when second co-headliner – REO Speedwagon took the stage. They started their rockin' strong set with "Don't Let Him Go" and once again, the crowd was on their feet!
Giving an excellent performance – they continue to keep the crowd dancing and brought back those old memories that you can't help but have tied to their songs like "Can't Fight This Feeling," "Tough Guys," "That Ain't Love," "Take It on the Run" and of course "Time for Me to Fly!"
Looking around the amphitheatre, you couldn't help but notice the different generations young and young at heart – many different walks in life with one thing in common – They were "United to Rock!!"
There is one show of this tour left – Tuesday, Aug 22nd at the PNC Bank Arts Center in Holmdel, New Jersey. It's a ground-breaking show as for the first time – Styx teamed up with Oticon – a company that makes cutting-edge hearing aids. Fans wearing the new Oticon Opn hearing aid with be able to stream the concert directly into their ear, in real time by connecting the hearing aid with an internet connection and their iPhones.
Once the tour end, Reo Speedwagon with continue to tour North American (see Tour Dates below).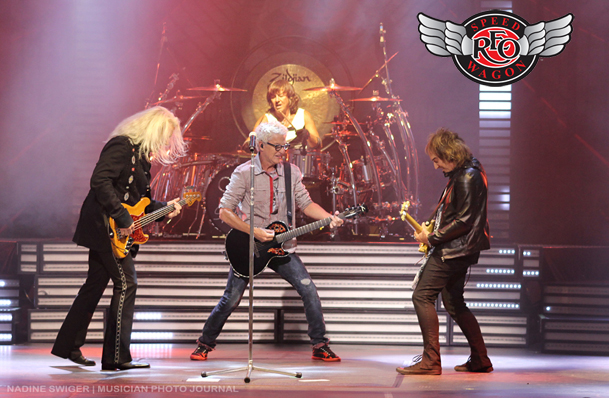 __________________________________________________________________

PHOTO GALLERIES :
REO SPEEDWAGON :: PHOTO GALLERY :: SYRACUSE NY


STYX :: PHOTO GALLERY :: SYRACUSE NY


DON FELDER :: PHOTO GALLERY :: CLIFTON PARK NY


__________________________________________________________________

TOUR DATES :
.
UNITED WE ROCK TOUR:
(REO Speedwagon, STYX, Don Felder)
AUG 22, 2017 Holmdel, NJ @ PNC Bank Arts Center
Don Felder Tour Dates:
OCT 26, 2017 RIVIERA MAYA, MEXICO @ HARD ROCK RESORT
OCT 27, 2017 RIVIERA MAYA, MEXICO @ HARD ROCK RESORT
OCT 28, 2017 RIVIERA MAYA, MEXICO @ HARD ROCK RESORT
OCT 29, 2017 RIVIERA MAYA, MEXICO @ HARD ROCK RESORT
NOV 2, 2017 RIVIERA MAYA, MEXICO @ HARD ROCK RESORT
NOV 3, 2017 RIVIERA MAYA, MEXICO @ HARD ROCK RESORT
NOV 4, 2017 RIVIERA MAYA, MEXICO @ HARD ROCK RESORT
NOV 5, 2017 RIVIERA MAYA, MEXICO @ HARD ROCK RESORT
STYX TOUR DATES:
AUG 24, 2017 Trois-Rivières, Québec, Canada @ Amphithéâtre Cogeco
AUG 25, 2017 Pointe-Claire, Quebec , Canada @ Fairview Pointe Claire
AUG 26, 2017 Saint-Joseph, QC, Canada @ Acceleration de Camion de St. Joseph
AUG 27, 2017 Chicoutimi, QC, Canada @ Le Centre Georges – Vezina
SEP 7, 2017 Fort Wayne, IN @ Foellinger Outdoor Theatre
SEP 8, 2017 Bay City, MI @ Veterans Memorial Park
SEP 9, 2017 Hinckley, MN @ Grand Casino Hinckley Amphitheater
SEP 10, 2017 Mankato, MN @ Vetter Stone Amphitheater
SEP 15, 2017 Rancho Mirage, CA @ Agua Caliente Casino
SEP 16, 2017 Pomona, CA @ Los Angeles County Fairgrounds
SEP 17, 2017 Jackson, CA @ Jackson Rancheria Casino Resort
OCT 19, 2017 Tallahassee, FL @ The Pavilion at the Centre of Tallahassee
OCT 20, 2017 Biloxi, MS @ IP Casino Resort and Spa
OCT 21, 2017 Tunica Resorts, MS @ Gold Strike Casino
NOV 9, 2017 Northfield, OH @ Hard Rock Rocksino Northfield Park Hard Rock Live
NOV 10, 2017 Hammond, IN @ The Venue at Horseshoe Casino
NOV 11, 2017 Wisconsin Dells, WI @ Crystal Grand Music Theatre
NOV 14, 2017 Lima, OH @ Veterans Memorial Civic & Convention Center
NOV 15, 2017 Kalamazoo, MI @ Kalamazoo State Theatre
NOV 17, 2017 Rama, ON, Canada @ Casino Rama Resort
NOV 18, 2017 Orillia, ON, Canada @ Casino Rama Resort
DEC 29, 2017 Durant, OK @ Choctaw Grand Theater
REO SPEEDWAGON TOUR DATES:
AUG 24, 2017 ASHEVILLE, NC @ BILTMORE ESTATE
SEP 14, 2017 CEDAR FALLS, IA @ UNIVERSITY OF NORTHERN IOWA
SEP 15, 2017 PEORIA, IL @ PEORIA CIVIC CENTER
SEP 16, 2017 QUAPAW, OK @ DOWNSTREAM CASINO RESORT
SEP 29, 2017 CABAZON, CA @ MORONGO CASINO RESORT & SPA
SEP 30, 2017 LAS VEGAS, NV @ ORLEANS SHOWROOM
OCT 1O, 2017 LAS VEGAS, NV @ RLEANS SHOWROOM
OCT 3, 2017 ENID, OK @ CENTRAL NATIONAL BANK CENTER
OCT 5, 2017 HUNTSVILLE, AL @ VON BRAUN CENTER CONCERT HALL
OCT 7, 2017 FAYETTEVILLE, NC@ CROWN COMPLEX
OCT 28, 2017 RIVIERA MAYA, MEXICO @ HARD ROCK HOTEL
NOV 16, 2017 EFFINGHAM, IL @ EFFINGHAM PERFORMANCE CENTER
NOV 17, 2017 RED WING, MN @ TREASURE ISLAND RESORT & CASINO
NOV 18, 2017 WAUKEGAN, IL @ GENESEE THEATER
JAN 28, 2017 DETROIT, MI @ MOTORCITY CASINO HOTEL
__________________________________________________________________
LINKS:
REO SPEEDWAGON : reospeedwagon.com
_____________________________________________
STYX : styxworld.com






_____________________________________________
DON FELDER : donfelder.com
_____________________________________________
_________________________________________________________________