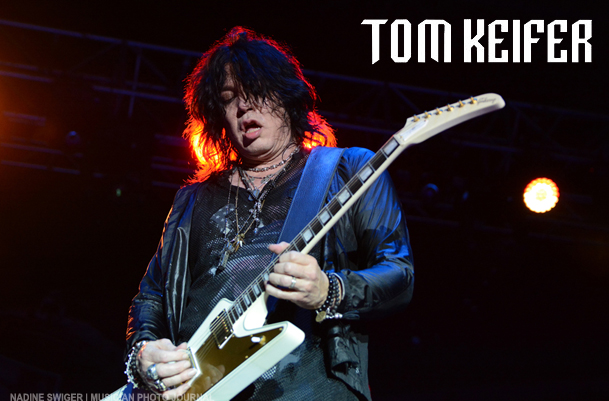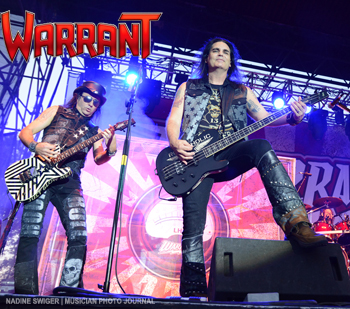 It was a Rockin' night of Hair-metal when Tom Keifer (the voice of Cinderella), Warrant and Quiet Riot took over Tag's Summerstage in Big Flats NY! It was like stepping back in time to 1980's – when you couldn't get enough of these bands live and you cranked their album on volume 10!
First up was Quiet Riot with their brand of "Bang your Head" metal!! Coming out strong with "Run For Cover" – Quiet Riot set the mood for a hit packed set-list! Fans raised a fist to "Slick Black Cadillac," The Wild and the Young," and "Party All Night." Their set wouldn't be complete without playing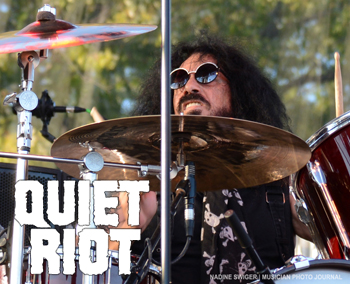 their classic metal anthems – "Mama Weer All Crazee Now," "Cum On Feel the Noize" and closing out their set with "Metal Health (Bang Your Head)."
Quiet Riot is out in support of their thirteenth studio album, "Road Rage." This album is the first Quiet Riot album to feature their new singer – James Durbin. Durbin is a former American Idol alum. Live, he has a lot of energy that keeps the crowd entertained.
Quiet Riot has a few USA tour dates scheduled for this fall. See dates listed below and be sure to check out their websites for the latest dates.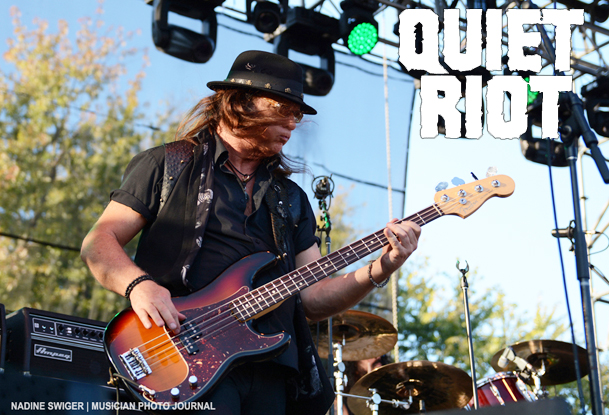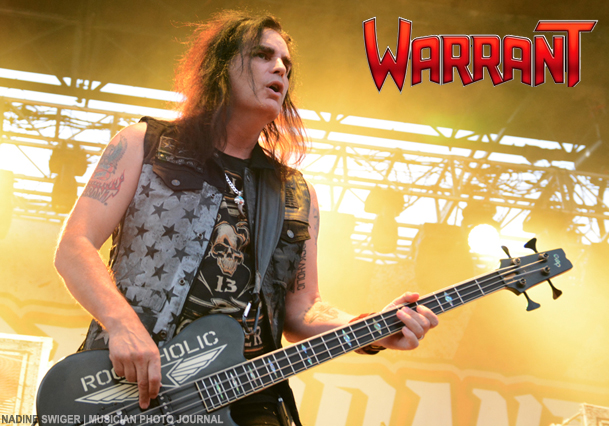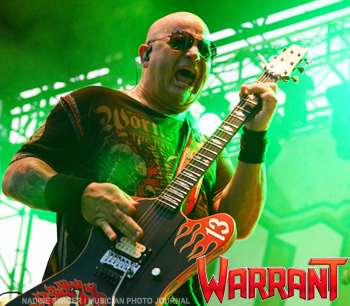 Next up was where those "Down Boys" go to party – with Warrant of course! Playing all those favorites like "Big Talk" "D.R.F.S.R.(Dirty Rotten Filthy Stinking Rich)," "Down Boys," Sometimes She Cries," "Sure Feels Good to Me," "Heaven," "I Saw Red" and "Uncle Tom's Cabin." So many fun songs in such a short time. They even did a few newer songs, including an old western swagger rock song "Dusty's Revenge" (it sounds like something off the Young Guns soundtrack) and the title track of their last album, "Louder Harder Faster." They closed out the set with none other than "Cherry Pie."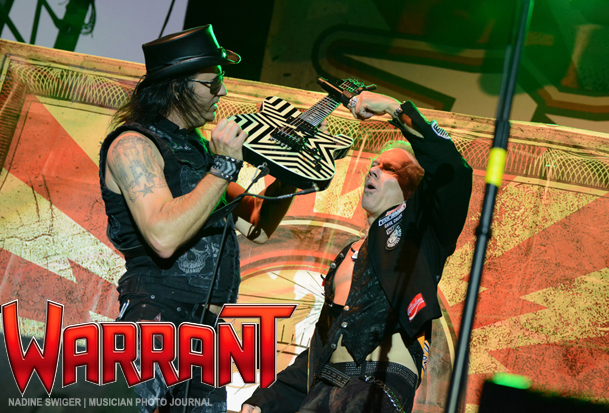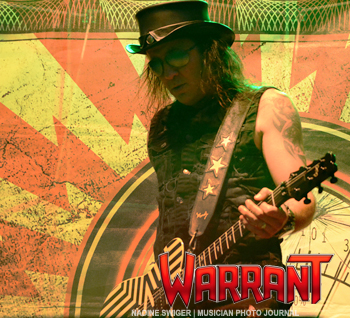 This was my first time seeing the band with Robert Mason on vocals. Honestly, I wasn't sure what to think about seeing them without Jani Lane as I hold those old memories high. But with an open mind – Robert Mason came out holding his ground and really did a great job. He has a great stage presence and now I can have great new memories of those songs I love.
Warrant will continue to tour around the USA. See tour dates below or check their websites for the latest show dates.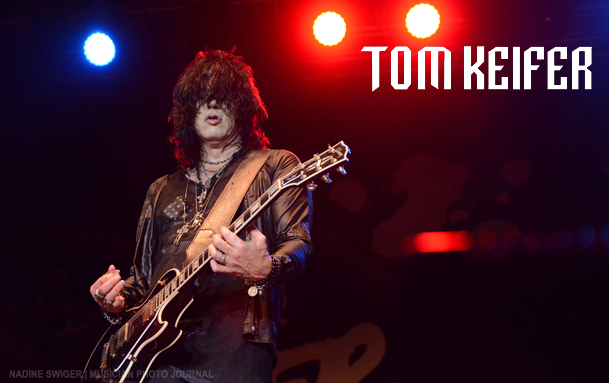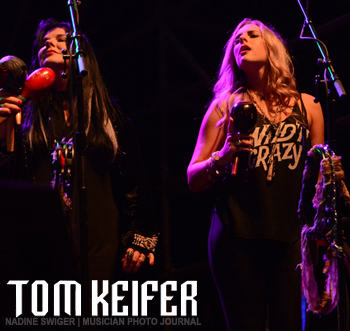 Headlining the night was Tom Keifer. Most know him as the vocalist of Cinderella – but Tom also has ventured out on his own solo career since 2013l!
Tom Keifer and his band took an interesting approach to kick off their set. They all came out, center stage and did a ritual, put their hands in like a sports team in a huddle – they broke and started to perform "Still Climbing" The setlist was mixed both Cinderella songs, Tom Keifer's own solo works and even threw in a Beatles tune to round out a smoking setlist!! Tom and his band rocks the stage like no other, leaving the crowd wanting more!!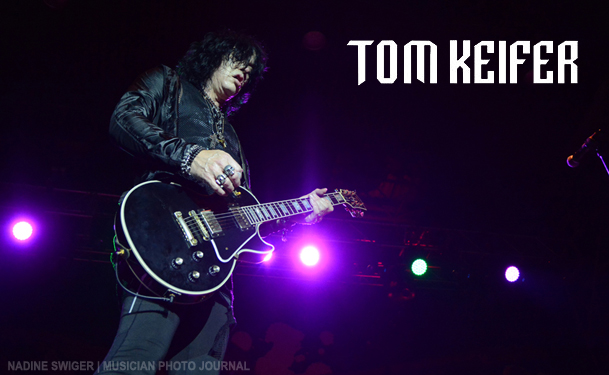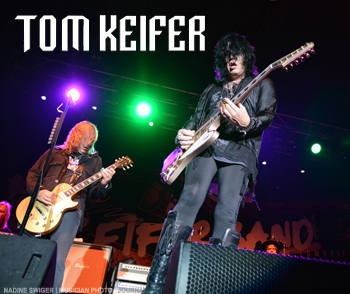 Tom Keifer is gearing up to release a new Deluxe Edition of his debut album, 'The Way Life Goes."' The new album was remastered and will include two new songs, all new artwork in a six-panel digipack that is designed by David Calcano (artist of Fantoon comic) and will include a 20 page illustrations that represent each song on the album. There is a guest appearance as Lzzy Hale of Halestorm does a duet with Tom on "Nobody's Fool" and the Beatles cover tune, "With A Little Help From My Friends" which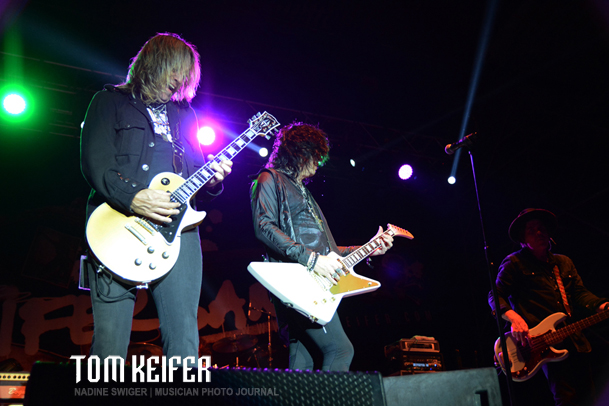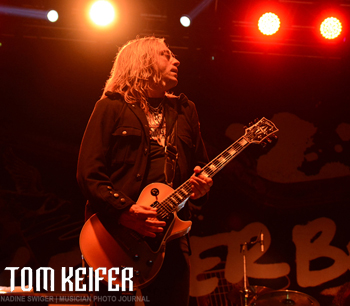 was played live. The album is slated for a October 20, 2017 release on Cleopatra Records. (Pre-Order your copy on Amazon and on Cleopatra's website).
Tom Keifer with his band has also begun writing new material for a new album, scheduled to record Fall 2018. Meanwhile catch Tom Keifer on the road as he will be touring USA – dates scheduled to the end of the year (see dates below or go to his website for latest dates).
Overall, it couldn't of been a more perfect night of rock!! And if a great rock show wasn't enough – you even got a taste of Halloween fun that Tag's brings with Tagsylvania – with Lecter's Lair, Jerkus Circus and even fortune tellers on hand! How can you go wrong? Tagsylvania will run all month long in October. For more details of these gulish events, check out tagsylvania.com.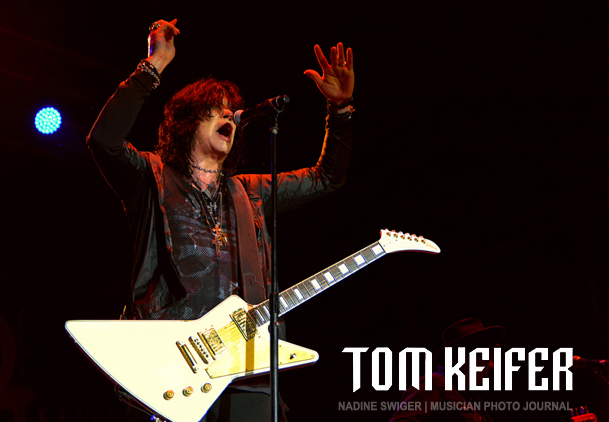 __________________________________________________________________

PHOTO GALLERIES :
TOM KEIFER :: PHOTO GALLERY :: BIG FLATS NY


WARRANT :: PHOTO GALLERY :: BIG FLATS NY


QUIET RIOT :: PHOTO GALLERY :: BIG FLATS NY


__________________________________________________________________

TOUR DATES :
.
TOM KEIFER
Oct 05, 2017 Irving, TX @ The Pavilion at Irving Music Factory
Oct 06, 2017 Lexington, KY @ Manchester Music Hall
Oct 11, 2017 New York, NY @ BB KINGS
Oct 12, 2017 Derry, NH @ Tupelo Music Hall
Oct 13, 2017 Chester, PA @ The Block at Harrah's Casino
Oct 14, 2017 Warrendale, PA @ Jergel's
Oct 20, 2017 Little Rock, AR @ Arkansas State Fair
Oct 28, 2017 Denver, CO @ Fillmore Auditorium
Nov 03, 2017 Galveston, TX @ Lone Star Rally – Saengerfest Park
Nov 04, 2017 San Antonio, TX @ The Rock Box
Nov 09, 2017 Pasadena, CA @ The Rose
Nov 10, 2017 Santa Clarita, CA @ The Canyon
Nov 11, 2017 Big Bear Lake, CA @ The Cave
Nov 12, 2017 San Juan Capistrano, CA @ THE COACH HOUSE
Dec 07, 2017 Joliet, IL @ The Forge
Dec 08, 2017 Dubuque, IA @ O Casino
Dec 15, 2017 Westland, MI @ Token Lounge
WARRANT
Oct 13, 2017 Warrendale, PA @ Jergels
Oct 14, 2017 Jim Thorpe , PA @ Penn's Peak
Oct 15, 2017 Uncasville, CT @ Mohegan Sun Casino
Oct 20, 2017 New Buffalo, MI @ Four Winds Casino
Oct 21, 2017 Mount Clemens, MI @ Emerald Theatre
Oct 22, 2017 Tulsa, OK @ IDL Ballroom
Oct 27, 2017 Effingham, IL @ Effingham Performance Center
Nov 03, 2017 Salt Lake City, UT @ Salt Palace Convention Center
Nov 04, 2017 Las Vegas, NV @ PBR World Finals – T-Mobile Arena
Jan 18, 2018 Houston, TX @ Proof Top Lounge
QUIET RIOT
Oct 19, 2017 Houston TX @ Proof Rooftop Lounge
Oct 28, 2017 Brownsville TX @ Rock The Park Festival
Nov 03, 2017 Muskegan MI @ Rusty Spoke
Nov 04, 2017 Pembroke Pines, FL @ Rockfest 80'S
Nov 18, 2017 West Hollywood CA @ The Whisky A GO GO
________________________________________________________________________
LINKS:
TOM KEIFER : tomkeifer.com
_____________________________________________
WARRANT : warrantrocks.com/






_____________________________________________
QUIET RIOT : www.quietriot.band






_____________________________________________
_________________________________________________________________________