MPJ SPOTLIGHT ARTIST: NOTHING MORE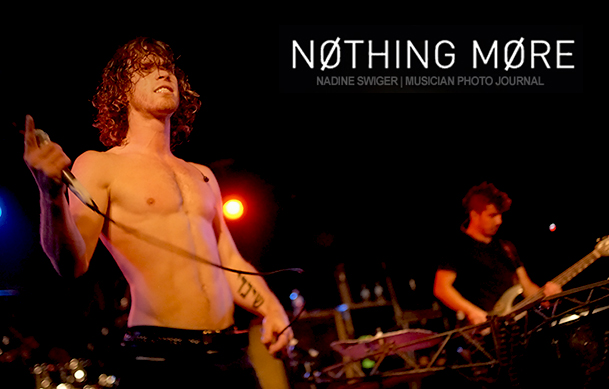 This month's feature artist is San Antonio, TX natives – NOTHING MORE – featuring : Jonny Hawkins (Lead Vocals, Aux Drums), Daniel Oliver (Bass, Backup vocals), Mark Vollelunga (Guitar, Backup vocals) and Paul O'Brien (Drums) .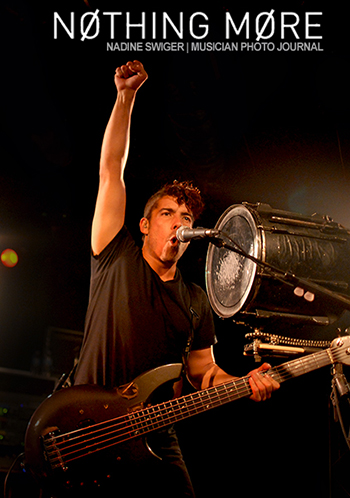 My first glance at this band was back in June, when they played the 95xFest in Syracuse, NY. The show was literally days before the release of their first major label, self titled album. I had heard only a few songs prior to the show including the band's first single "This Is The Time" which was blowing up on the radio airwaves. The band, with their label Eleven Seven Music teamed up to promote the new album with a "countdown" to its release date, posting an audio stream – one song a day – with images and quotes that captured the songs. There was an enormous buzz surrounding this band and I couldn't wait to see what the hype was all about first hand. Nothing More ended up blowing away any expectations I had going in! Not only did they live up to the rumors, but they surpassed it!
On the surface, Nothing More are a high octane rock band with a solid sound and stage performance. To me, they have an Arena Rock sound – it will be great to see how they will fill the space when they go on their first ever Arena Rock Tour with Five Finger Death Punch, Volbeat and Hellyeah next month. And while being on the surface of this band is great – when you peel back the layers that are within, you will discover heart, soul and a band that is rich with substance on many different levels. First you may take notice to the darker set lyrics with meaning and positive messages that you can take away. For instance – with "I'll Be OK." – See Lyric video below: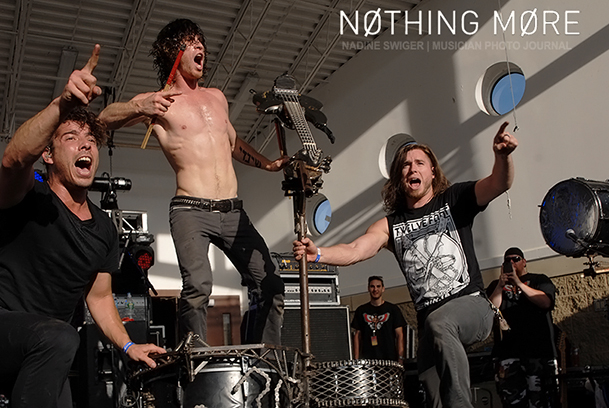 Or maybe your focus will be on how the band take other creative aspects of their lives, mesh it with their music creations, like the phenomenon that is known as Drum-Tron – a metal contraption the band designed and built from scrap metal, gears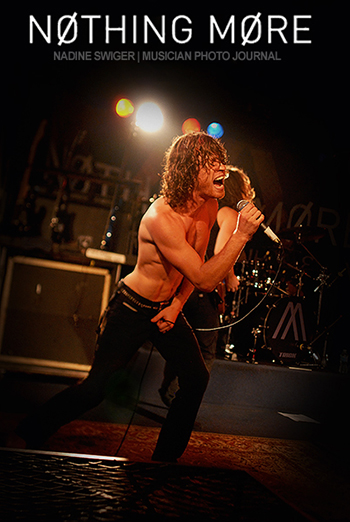 and rotating parts. Drum Tron has cause quite a stir and seems to have taken on a life of its own at their live shows. We had the opportunity to sit down with lead vocalist, Jonny Hawkins before Nothing More's set, for an in depth interview, where Jonny talks about DrumTron – taking us on a journey of their concept of DrumTron, and how it evolved into what we see today!
In addition we talked about being from the southern bible belt area, and releasing a tune like "Christ Copyright" – where it's more about challenging and opening up one's mind (see video below). Did you know that the band actually has several albums released? Jonny tells us about those buried treasures that only a select few have their hands on (an how to get the last one before signing to their major label). What's in store for Nothing More in the coming months, including shooting their next music video – did you guess the next song correctly? Jonny gives us the scoop!!!
Nothing More is currently on their headlining tour titled, "We Are Not Machines" until Sept. Then look for them to jump on tour with Five Finger Death Punch, Volbeat, and Hellyeah before ending at the KnotFest in San Bernardino, CA. But according to Jonny – the touring doesn't stop there!
________________________________________________________________________

TOUR DATES :
.
Headlining Tour Dates:
8/18/2014 Baltimore, Md. — Ottobar
8/19/2014 Charlotte, N.C. — Amos' Southend
8/20/2014 Atlanta, Ga. — Masquerade Hell
8/22/2014 Nashville, Tenn. — The End
8/23/2014 St. Louis, Mo. — The Firebird
8/24/2014 Springfield, Mo. — Outland Ballroom
8/26/2014 Little Rock, Ark. — Juanitias
8/27/2014 Dallas, Texas — Trees
8/29/2014 Houston, Texas — Scout Bar
8/30/2014 San Antonio, Texas — Sam's Burger Joint
9/02/2014 Tucson, Ariz. — The Rock
9/03/2014 Los Angeles, Calif. — Troubadour
9/05/2014 Denver, Colo. — Marquis
9/06/2014 Colorado Springs, Colo. — Black Sheep
9/09/2014 Seattle, Wash. — El Corazon
9/10/2014 Spokane, Wash. — Knitting Factory
9/11/2014 Boise, Idaho — Knitting Factory
9/12/2014 Portland, Ore. — Dantes
Five Finger Death Punch/Volbeat/HellYeah/Nothing More Tour
9/16/2014 Salt Lake City, UT – Maverik Center
9/17/2014 Billings, MT – Rimrock Auto Arena @ Metrapark
9/18/2014 Bismarck, ND – Bismarck Civic Center
9/20/2014 Cedar Rapids, IA – US Cellular Coliseum
9/21/2014 Grand Rapids, MI – Deltaplex
9/23/2014 Syracuse, NY – The Oncenter
9/25/2014 Baltimore, – MD Baltimore Arena
9/26/2014 Lowell, MA – Tsongas Center
9/27/2014 Albany, NY – Times Union Center
9/30/2014 Portland, ME – Cumberland County Civic Center
10/1/2014 Reading, PA – Santander Arena
10/3/2014 Newark, NJ – Prudential Center
10/7/2014 Ft. Wayne, IN – Allen County War Memorial
10/10/2014 Huntington, WV – Big Sandy Superstore Arena
10/11/2014 Duluth, GA – Gwinnett Arena
10/12/2014 Knoxville, TN – Knoxville Civic Coliseum
10/14/2014 Orlando, FL – CFE Arena
10/16/2014 Biloxi, MS – MS Coast Coliseum
10/17/2014 Little Rock, AR – Verizon Arena
10/22/2014 Rio Rancho, NM – Santa Ana Star Center
10/24/2014 Las Vegas, NV – The Joint
10/26/2014 Nothing More @ Knotfest – San Bernardino , CA
_________________________________________________________________________

PHOTO GALLERIES :
NOTHING MORE :: PHOTO GALLERY :: 95xFest
NOTHING MORE :: PHOTO GALLERY :: Clifton Park NY
__________________________________________________________________


LINKS:
NOTHING MORE : nothingmore.net
_____________________________________________
_________________________________________________________________