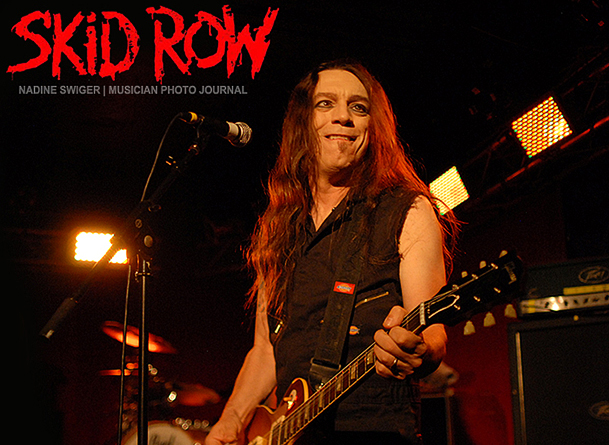 Fist were raised and the crowd ready to rock when Skid Row pulled into the Montage Music Hall in Rochester NY, kicking off yet another leg of their "United World Rebellion" world tour!
It's been just about a year since the last time I've seen Skid Row, yet they never cease to amaze me at how tight their sound actually is live! Their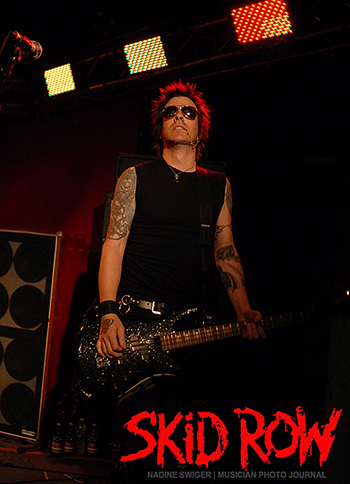 performance has no filter, nor BS – just straight up rock-n-roll! From the ever impressive guitar solo battle between Snake Sabo and Scotti Hill, to those powerful bass riffs of Rachel Bolan that we love in songs like "Piece Of Me" and "Monkey Business" there was no way the crowd could stand still!! Being led by the charismatic frontman, Johnny Solinger and backed by the hard hitter Rob Hammersmith on drums, their show is a win/win night!!
Skid Row kicked off the night with the amped up "Let's Go" from their 2013EP, "United World Rebellion – Chapter One." Keeping that high octane energy flowing, they went straight into the classic hits "Big Guns," "Makin' A Mess" and "Piece of Me" before slowing it down a bit with "18 and Life." They would continue on with a combination of the old favorites and the new favorites like "Riot Act," "Darkened Room," "Monkey Business," "I Remember You," "Thick Is The Skin," "King Of Demolition" and the Ramones cover, "Pycho Therapy." They would do close the night with the classic Skid Row tunes "Get The Fuck Out," "Slave To the Grind" and "Youth Gone Wild."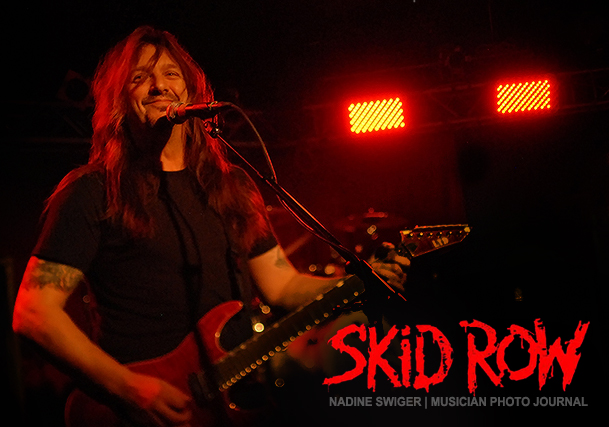 There really is something to be said about the personal connection the band makes with their crowd – from pointing out the metal/rock t-shirts in the crowd to acknowledging the dude in the front row, who was rockin' out so hard and happened to look like a young James Hetfield, to the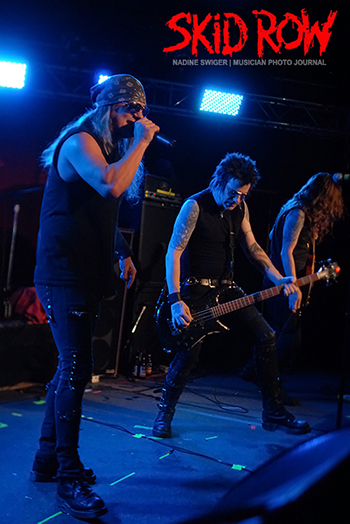 personal stories they share on stage. Skid Row really takes the time and gives back to their crowd with an intimate yet full on highly energetic show!
Skid Row looks to release "Rise Of The Damnation Army – United World Rebellion: Chapter Two" on August 5 via Megaforce Records. I've had the opportunity to listen to the new album – it truly continues where Chapter One left off!! With some great riffs on "We Are The Damned" "Give It The Gun," and "Damnation Army" to the slower heartfelt ballad "Catch Your Fall" rounded out with them bad ass bass licks on "Zero Day" – you will want to get your hand on it when it hit stores!! There are also some bonus tracks to keep an eye out that include awesome covers of Queen's "Sheer Heart Attack" and Aerosmith's "Rats In The Cellar!"
Skid Row will continue on their world tour – heading across North America and Europe in the near future (See Tour Dates listed below). Watch for them to come to your area, be sure to grab your friends and go experience one hell of a show!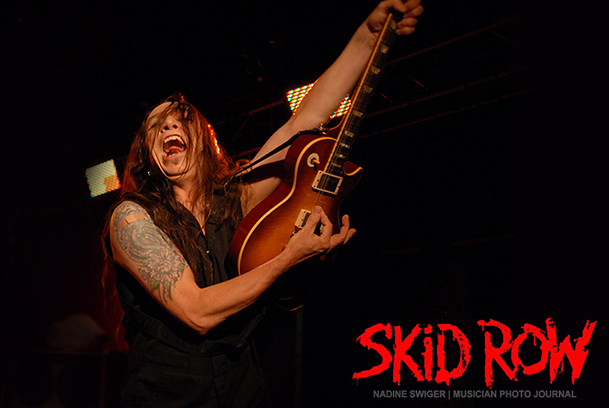 _________________________________________________________________________

PHOTO GALLERIES :
SKID ROW :: PHOTO GALLERY :: ROCHESTER NY
________________________________________________________________________

TOUR DATES :
.
07/23/14 South Burlington, VT @ The Venue Night Club
07/25/14 Duncannon, PA @ Tubby's Nightclub
07/31/14 Kostrzyn Nad Odra, Poland @ Polish Woodstock
08/01/14 Wacken, Germany @ Wacken Open Air
08/02/14 Székesfehérvár, Hungary @ Fezen Fest.
08/04/14 Milan, Italy @ Circolo Magnolia
08/05/14 Pisa, Italy @ Jungle
08/06/14 Ravenna, Italy @ Rock Planet
08/08/14 Bildein, Austria @ PICTURE ON FESTIVAL
08/09/14 Gavle, Sweden @ Gataway Rock Fest
08/15/14 Sayreville, NJ @ Starland Ballroom
08/16/14 Hartford, CT @ The Webster
08/17/14 Ottawa, Canada @ Obsession Live Lounge
08/19/14 Montreal, Canada @ Virgin Mobile Corona Theater
08/20/14 Toronto, Canada @ Virgin Mobile Mod Club
08/21/14 Pittsburgh, PA @ The Altar Bar
08/22/14 Sterling Heights, MI @ Freedom Hill Amph.
08/23/14 London, Canada @ London Music Hall
09/26/14 Charlotte, NC @ Amos' Southend
09/27/14 Duluth, GA @ Wild Bills
10/17/14 Bristol, United Kingdom @ Bierkeller
10/18/14 Cambridge, United Kingdom @ The Junction
10/19/14 Hull, United Kingdom @ The Well
10/20/14 Edinburgh, United Kingdom @ Liquid Room
10/22/14 Bournemouth, United Kingdom @ Old Fire Station
10/23/14 Stourbridge, United Kingdom @ River Rooms
10/24/14 Wakefield, United Kingdom @ Warehouse 23
10/25/14 Buckley, United Kingdom @ Tivoli
10/26/14 Nuneaton, United Kingdom @ Queens Hall
10/28/14 London, United Kingdom @ The Underworld Camden
11/01/14 Oberhausen, Germany @ Turbinenhalle
11/02/14 Cologne, Germany @ Live Music Hall
11/04/14 Saarbrucken, Germany @ Garage
11/06/14 Tilburg, Netherlands @ O13
11/10/14 Aarhus, Denmark @ Voxhal
11/12/14 Copenhagen, Denmark @ Amager Bio
11/13/14 Hamburg, Germany @ Markthalle
11/14/14 Berlin, Germany @ Huxleys Neue Welt
11/15/14 Warsaw, Poland @ Progresja
11/16/14 Prague, Czech Republic @ Roxy
11/18/14 Linz, Austria @ Posthof
11/23/14 Stuttgart, Germany @ LKA/ Longhorn
11/24/14 Paris, France @ Le Bataclan
11/25/14 Villeurbanne, France @ Transbordeur
11/26/14 Ramonville, France @ Le Bikini
11/29/14 Lille, France @ Le Splendid
(subject to change so be sure to check your local venue and Skid Row's website for more details)
__________________________________________________________________


LINKS:
SKID ROW : skidrow.com
_______________________________
_________________________________________________________________