Nothing More brought in an A+ Night of Rock to the Lost Horizon in Syracuse with Black Map, As Lions and Hell or Highwater by their side!

First up was Hell or Highwater. They came out hitting hard and demanded crowd participation. And when that crowd participation wasn't up to the Hell or Highwater standard, vocalist, Brandon Saller went out into the crowd to get the crowd to engage! It worked as by the next song, the crowd was moving and obeyed when Brandon asked the crowd to put up their phones or lighters in the air to light up the club. By the end of their set – it was obvious that Hell Or Highwater had won the crowd over. Hell or Highwater is out in support of their latest album, "Vista."
Brandon may seem familiar as he is also the drummer/vocalist of Atreyu.
Hell or Highwater is Brandon Saller- Vocals, Kyle Rosa- Drums, Joey Bradford- Guitar, Jon Hoover- Guitar and
Nick Maldonado- Bass/Synth.
As Lion is Austin Dickinson – Vocals, Conor O'Keefe – Guitar, Will Homer- Guitar, Stefan Whiting – Bass and Dave Fee- Drums.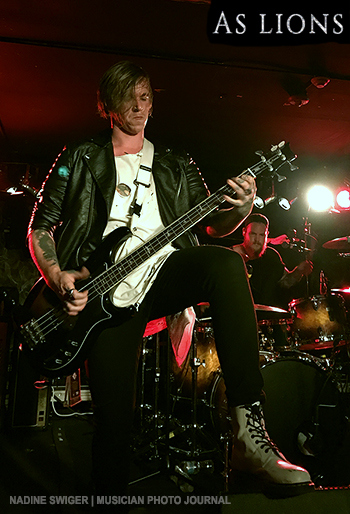 Up next was the British lads – As Lions. They kept that high-octane energy levels up as they also came out hitting hard. They had the crowd moving from the get go and it never stopped until the last song. Vocalist, Austin Dickinson left the crowd with this – "Be Loud. Be Proud. Be You!! And of course, bang your head with your friends!" which definitely could be the motto of the night and I'm sure the tour!!! Austin was a great frontman, which I'm sure he's learned from one of the best – his dad is Bruce Dickenson (Iron Maiden). As Lion is out on tour in support of their debut album, Selfish Age.
As Lion is Austin Dickinson – Vocals, Conor O'Keefe – Guitar, Will Homer- Guitar, Stefan Whiting – Bass and Dave Fee- Drums.
The show rolled on as Black Map was next to take the stage. They have a very interesting blend of musical styles. At times, they seemed progressive, but sped up faster….then it would go into a more groovy heavy rock .. mix in some doom metal and alternative rock and you got Black Map. They are real "mutt of rock," (in a good way) with so many different elements going on. They are like no other and to describe them won't do it justice. You are better off checking out their music on their Bandcamp page. They are out in support of their latest album, "In Droves"
Black Map is Ben Flanagan – Vocalis/Bass, Mark Engles – Guitar, and Chris Robyn – Drums

Last to take the stage was Headliner – Nothing More! I really can't say enough great things about these guys and their live shows!! They are packed with so much energy that raises a crowd to the roof!! They came out with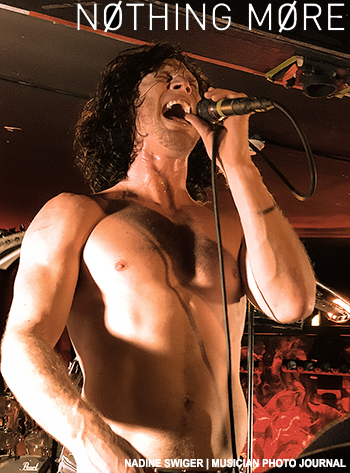 Christ Copyright and the crowd went nuts!!! They continued on and even played several new songs off their upcoming album. They plan to release 5 singles soon and the full length in the near future. If those other songs are anything like the new ones they played, we are in for another killer release from these guys!!!
Of course, a Nothing More show isn't complete without the bass, drum solos! And this show was not an exception. They introduced a new stage "toy" – The Nothing More Scorpion which seems like it bends the wave lengths to bring a new electronic element to their songs. You can check it out with the video below. (Of course, these were shot on my phone, so it's not the professional quality as if it were recorded on the sound board – But you get a good feel for what it does). What is more impressive – that bassist Daniel Oliver designed and built it himself!
The touring cycle has just begun for Nothing More!!! It's great to see these guys back out on the road! Keep your eyes peeled for them to hit your town.
Nothing More is Jonny Hawkins – Vocalist, Daniel Oliver – bass, Mark Vollelunga – guitar and Ben Anderson – Drums.

________________________________________________________________________
LINKS:
NOTHING MORE : nothingmore.net
_____________________________________________
BLACK MAP : blackmapmusic.com
_____________________________________________
AS LIONS : aslionsband.com
_____________________________________________
HELL OR HIGHWATER :
_____________________________________________
_________________________________________________________________