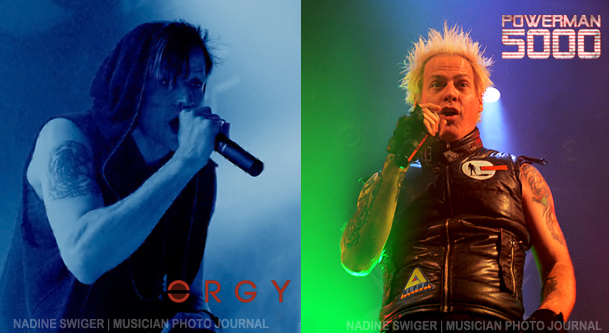 What happens when Two Worlds Collide and Vapor Transmissions are released? Why "Set to Stun Tour"of course. Powerman 5000 and Orgy have teamed up for a co-headlining tour that will be sure to blast your socks off into the future! They have the up and coming bands, Death Valley High and Knee High Fox as support.
First up was Death Valley High. You may have caught these guys out with Mindless Self Indulgence, Filter, or Vampires Everywhere. We caught then a few years ago when they opened for Orgy. I was impressed with them then, and was looking forward to see how the band has grown. Unfortunately, a few wrong turns on the way to the club, and by the time we got there, they had just ended. From the buzz going on in the club, it sounded like they had another great set!!! They are doom industrial goth rock with a new wave/dance mix. I'm looking forward to getting to catching them again. Death Valley High are out in support of their latest album, "CVLT [AS FVK]."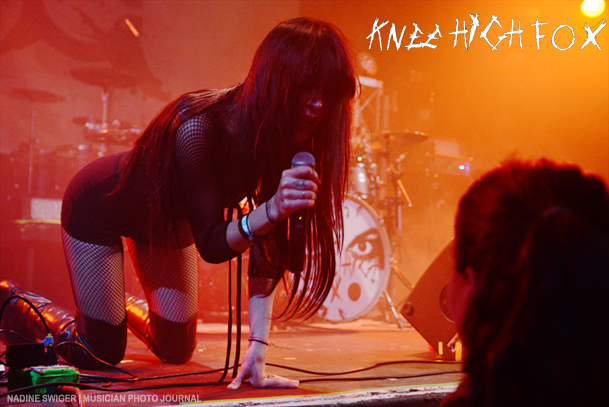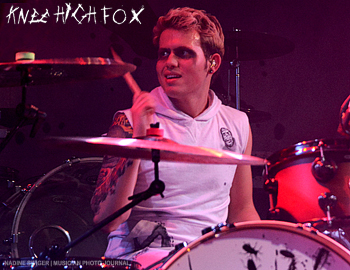 Second to take the stage was the female fronted, Knee High Fox. The band is noted for their horror sex theme, that vocalist Chrissy Fox plays into live. From her short jumper and over the knee boots, she was having fun playing to her audience in her sexy manner. Live, they have elements of loud pop rock mixed in with catchy electronic beats that do set them apart. Backing Fox is Simon Nagel on bass, Neal Tiemann on guitar, Oscar Silva on drums. They are out in support of their latest album, "Obey the Cross".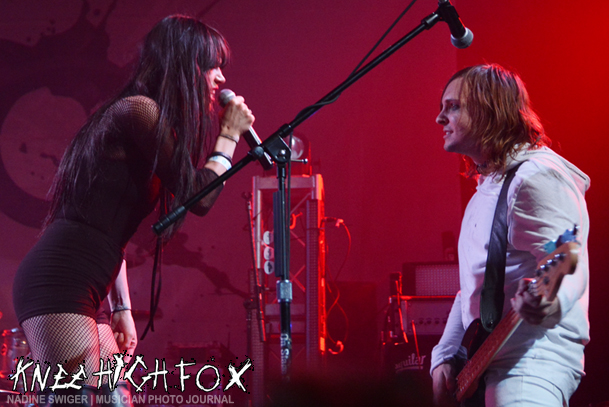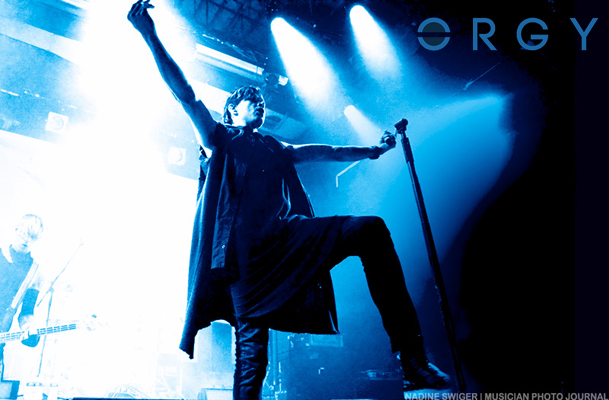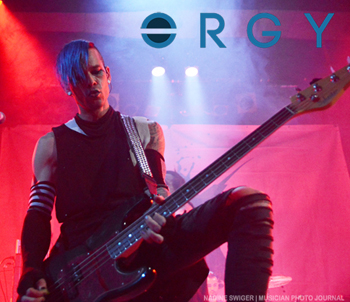 Next – it was time for the co-headliners to take the stage. Orgy and Powerman 5000 switch the last slot on the bill each night. At the Chance in Poughkeepsie, NY, it was Orgy's night to hit the stage first of the two!
The lights went down and the strobes kicked in. The electro-industrial heavyweights, ORGY was ready to "Talk Sick." They set the mood with very dark and mysterious stage lighting, mainly black with subtle flashes of blue and magenta lights to illuminate the stage. They also had a few strong spotlights behind the band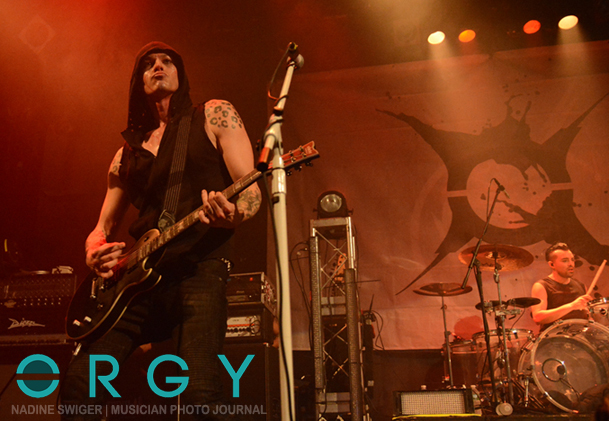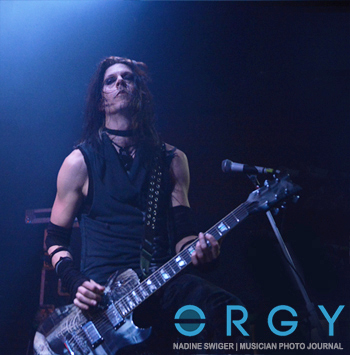 that would flash on and off, making strong silhouettes on stage . Musically, they sounded tight and played a well round of songs old and new, including "Dissention," "Fiction (Dreams In Digital)," "Comeback" and "Gface."
The band fully interacts with their audience, looking for the crowd's participation. Vocalist Jay Gordon asked the crowd what songs they still wanted to hear, and went with the request of "Stitches!" and during "Blue Monday," Jay went out into the crowd, allowing fans to sing along as he went throughout the crowd dancing, high-fiving and hugging fans. He could not have brought fans any closer if he wanted to. The guys from Death Valley High would return to the stage as they joined Orgy in a rendition of "Spin Me Right Round" to close off their set.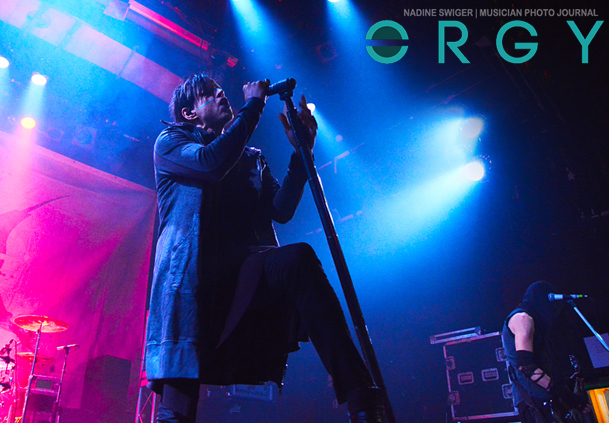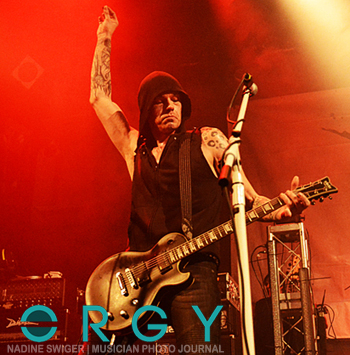 Listening to the songs off their debut album, Candyass (1998) and follow up album, Vapor Transmission (2000), both albums had such a futuristic feel at the time of their release. Those songs still holds solid today. Fast forward to 2017 and Orgy's new music still has that futurist edge, full of the pop, glam, industrial sound that we love about Orgy from the start, but fresh and new. Their latest release is "Talk Sick," a seven song EP is catchy and you will want to dance the night away. Meanwhile watch for new music from ORGY as they are slated for a 2017 release. Orgy and Death Valley High will be doing a European tour when this one winds down.
Orgy left the crowd full of high octane energy. Fans took a few minutes to catch their breath and before part two of the co-headlinging night.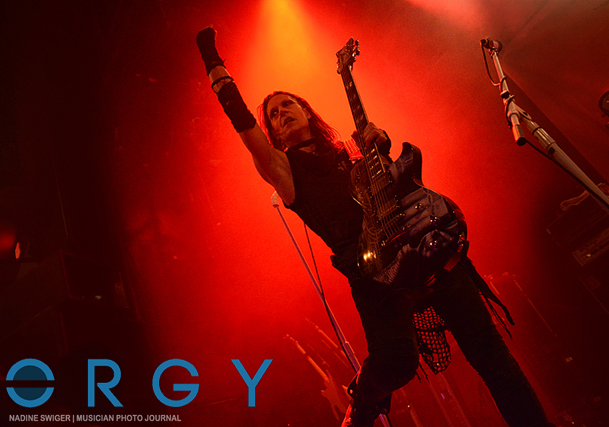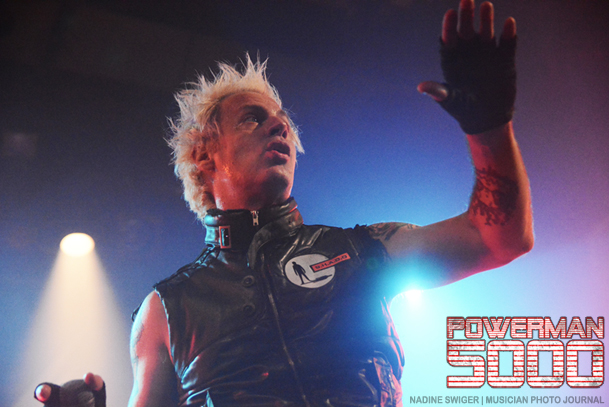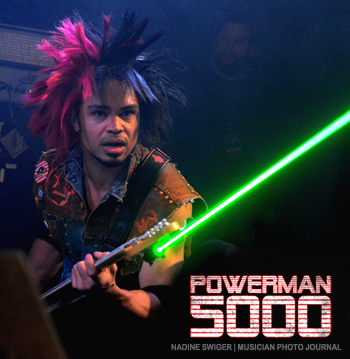 Once again the lights went down and Powerman 5000 was ready to hit the stage. As they made their way down the stairs, all the crowd could see are these green laser beams descending on the side of the stage. As the lights started to illuminate the stage, you see these green laser beams are actually connected to the members of Powerman 5000! The laser beams were from their guitar/bass heads, and the drummer had them on arm bans – all in true Sci-Fi fashion!
Powerman 5000 kicked off the night with the electric "Super Villain" and the punchy "Invade, Destroy, Repeat" which had the crowd jumping to the beats! They went on to play a great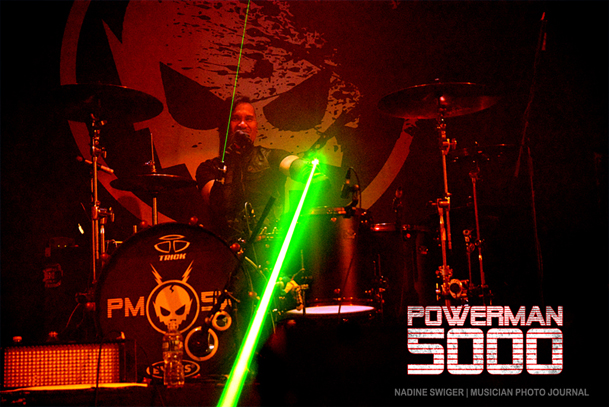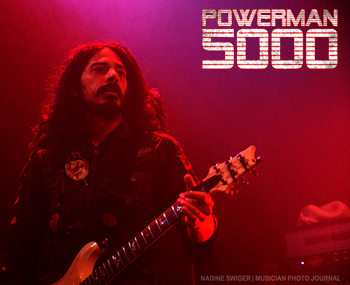 variety of their old and newer songs like "Nobody's Real" "V Is for Vampire" "Bombshell" and "How To Be Human" before closing out the night with those heavy hitters "Supernova Goes Pop" and "When Worlds Collide!"
Powerman 5000 kept the crowd participation up, using their laser pointers to point people out in the crowd. The energy levels of the show were exhilarating to the point a mosh pit formed and all crazy good madness broke loose.
Powerman 5000 are out on tour in support of their newest album, "Builders of The Future."
Overall "The Set to Stun Tour" was full of excitement and energy that made for an extremely great night of industrial electronic night of rock! The tour will make stops in Louisville. KY and Atlanta, GA before heading to TX and then off to the west coast (CA and OR). If your in the wake of this tour – you should go and embrace yourself for a great night! (See remain dates below or click on the links for latest updates).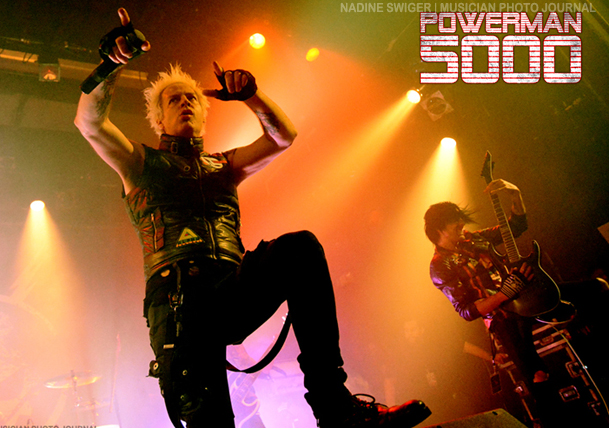 __________________________________________________________________

PHOTO GALLERIES :
POWERMAN 5000 :: PHOTO GALLERY :: POUGHKEEPSIE NY
ORGY :: PHOTO GALLERY :: POUGHKEEPSIE NY
KNEE HIGH FOX :: PHOTO GALLERY :: POUGHKEEPSIE NY
__________________________________________________________________

TOUR DATES :
.
Remaining ORGY/POWERMAN/KNEE HIGH FOX/DEATH VALLEY HIGH TOUR DATES:
1/17/2017 Louisville. KY @ Diamond Ballroom
1/18/2017 Atlanta, GA @ Masquerade
1/20/2017 Dallas, TX @ Trees
1/21/2017 Houston, TX @ Scout Bar
1/22/2017 Lubbock, TX @ Jakes Backroom
1/24/2017 Phoenix, AZ @ Joes Grotto
1/26/2017 San Diego, CA @ Brick By Brick
1/28/2017 West Hollywood, CA @ The Whisky (ORGY & DVH Only)
1/31/2017 Portland, OR @ Bossanova Ballroom
2/01/2017 Seattle, WA @ Studio Seven
2/03/2017 Sacramento, CA @ Ace Of Spades
________________________________________________________________________
LINKS:
POWERMAN 5000 : powerman5000.com
_____________________________________________
LINKS:
ORGY : orgymusic.com
_____________________________________________
KNEE HIGH FOX : kneehighfox.com
_____________________________________________
DEATH VALLEY HIGH : deathvalleyhigh.com
_____________________________________________
_________________________________________________________________