The Annual 95xFest hit the Oswego County Event Center this year in Pennellville, NY. Once again – it was your favorite radio show, where Rock meets Wrestling!!!
This year's line up included: POD, Hoobastank, 10 Years, Framing Hanley,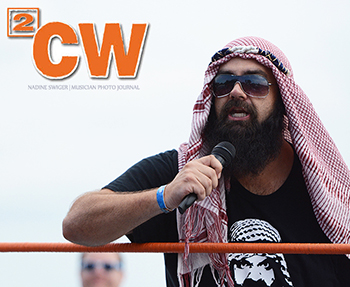 Art of Dying, Starset, Islander, Seasons After, Bridge To Grace, Heartist, Nasty Habit,Feeding Affliction. Plus 2CW wrestlers: Tommy Dreamer, X-Pac, Necro Butcher, Capt. Nick Ando, Bin Hamin, Isys Ephex, Kevin The Man Graham, Juggernaut Jason Axe, Studley Steve McKenzie and El Guero Loco.
Although we were a little late to arrive this year, the festivities were in full swing. It was a little smaller crowd this year, less family orientated than years past at the Papermill Island, but one thing was for sure… people were there to rock and be entertained!
First band we caught was Starset! These modern day sci-fi space walkers took the stage to rock! These guys really know how to light up a stage! Not only physically with their lighted space mask, but musically as well! They carry a space theme throughout their lyrics. Some of you may remember them from last year's KRockathon, these guys have breaking ground and carving their mark over the past year. Recently, they just ended a tour with Halestorm which was just in town last month and they will be going out with Breaking Benjamin who will be back in July. To learn more about Starset, check out our feature in the Spotlight Artist section or the interview we did with vocalist Dustin Bates last month.
Next up was Canadian rockers, The Art Of Dying. They came out hitting the stage with their brand of hard-rock/heavy metal that had the crowd cheering them on.
They exploded on the scene back in 2009 when they inked a record deal with Reprise Records/Intoxication Records (founded by David Drainman and Dan Donegan of Disturbed). Today, they are signed to Better Noise Records, and in April 2015 release a 5 song EP, "Rise Up" which features Dan Donegan on their title track.
The Art of Dying will continue to tour across the USA this summer, headlining and playing on larger radio shows. Check out their website (links below) for dates. And don't forget to check out our photo gallery from the 95xFest below as well.
Framing Hanley exploded as they were next to take the stage. They are no stranger to the Syracuse crowd as they have have playing several headlining club shows, opening many arena shows and several radio shows over their career.
Framing Hanley are out on their farewell tour, saying good bye to fans as they are out in support of their latest album, "THE SUM OF WHO WE ARE." Playing their second to last show ever to the Syracuse NY crowd, it will be sad to see this band call it quits. You can tell they were really trying to take in their last few hours on the stage and really just having fun as they go out in a bang. Framing Hanley will go out with a hometown bang when they play their last show ever on August 1st at Marathon Music Works in Nashville, TN.
10 Years was next on the bill – taking the 95x crowd by storm!! Lead singer – Jesse Hasek has been known to go over the top in "outragous outfits" at large festival shows, and that is just what he did! This time he went all out in a ladies bathing suit top and cover-up dress, making comments about how awkward it was for the photographers to try to NOT photograph up his dress! (And he was right!). They came out to leave an impression and no only did Jesse's crazy outfit left the crowd talking, the music was spot on and captivated the audience.
10Years is out in support of their latest release " From Birth to Burial" on their own record label Palehorse Records. 10 Years will be hitting the road with Nonpoint, The Family Ruin and Awaken The Empire, for a North American tour, kicking off July 17 in Indianapolis, IN. The tour will be in NYS : July 22 in Rochester, NY at The Montage Music Hall and July 24 in Poughkeepsie, NY at The Chance Theater. You can get more info on their website (Links below) and don't forget to check out our photo gallery from their crazy 95x Fest performance below.
Hailing from Agoura Hills, CA, Hoobastank was up next! They blew up the stage, coming out giving their all! You couldn't help but take notices and one thing was for sure – their fans were not disappointed as they rocked out!
Hoobastank is out in support of their latest album, "Fight or Flight" released via Open E Entertainment.
Hoobastank will be hitting the road for a run of dates across the US lasting the entire month of July. You can get more info on their website (Links below) and don't forget to check out our photo gallery from the 95x Fest peformance below.
Headlining the night was P.O.D. (Payable On Death). They came out full of energy and the crowd was pumped, energized and ready to go. One of the oldest nu-metal bands still around, P.O.D. has stand the test of time with their unique blend of hip-hop, funk, reggae and metal that raises a crowd to new heights.
Out in support of their upcoming, ninth studio album, "The Awakening." Starting out as a pledgemusic campaign, POD will be releasing "The Awaking" on August 21 via T-Boy/UMC. The 10 track album will have special guests appearances by Maria Brink from IN THIS MOMENT and Lou Koller from SICK OF IT ALL.
P.O.D. is out on the road, touring across North America in July and August, then playing the Rock al Parque in Colombia on August 16th. You can get more info on their website (Links below) and don't forget to check out our photo gallery from the 95x Fest peformance below.
Overall, the Festival was alot of fun. Musically, they had a great variety of rock acts, and the wrestling was of course entertaining to watch.
__________________________________________________________________

PHOTO GALLERIES :
POD :: PHOTO GALLERY :: 95xFEST
HOOBASTANK:: PHOTO GALLERY :: 95xFEST
10 YEARS :: PHOTO GALLERY :: 10 YEARS
FRAMING HANLEY :: PHOTO GALLERY :: 95xFEST
ART OF DYING :: PHOTO GALLERY :: 95xFEST
STARSET :: PHOTO GALLERY :: 95xFEST
2CW :: PHOTO GALLERY :: 95xFEST
__________________________________________________________________


LINKS:
95X : 95x.com
_____________________________________________
STARSET : starsetonline.com
_____________________________________________
ART OF DYING : artofdyingmusic.com
_____________________________________________
FRAMING HANLEY : framinghanley.net






_____________________________________________
10 YEARS : 10yearsmusic.com
_____________________________________________
HOOBASTANK : hoobastank.com
_____________________________________________
P.O.D. : payableondeath.com
_____________________________________________
MUSICIAN PHOTO JOURNAL :






__________________________________________________________________