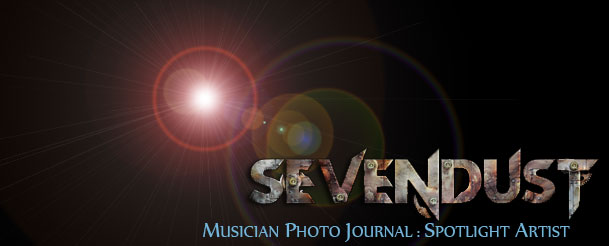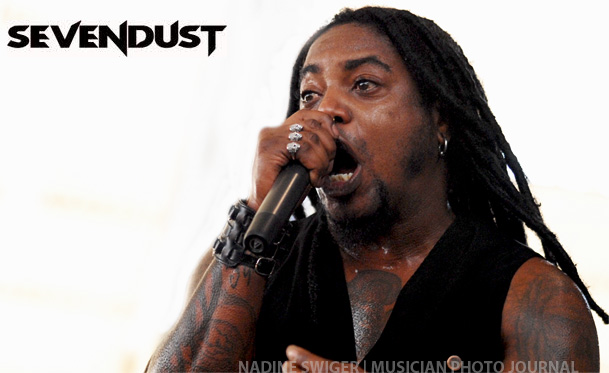 There is just no slowing down for this powerhouse called Sevendust since releasing their self-titled debut album on TVT Records back in 1997. With a relentless touring schedule, Sevendust has earned them the respect that their live shows deserved, as being one of the top bands in live performances. They come out strong, tight and hit you with a musical punch that you will be feeling for weeks when the show is long gone to the next cities.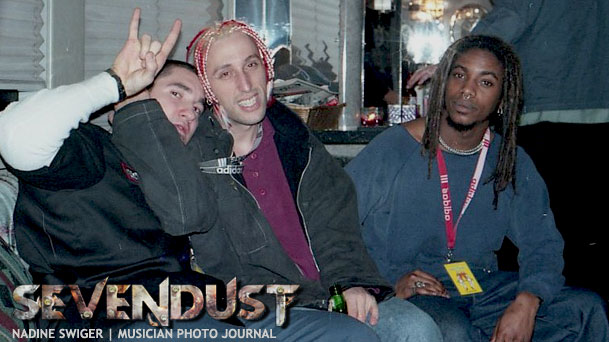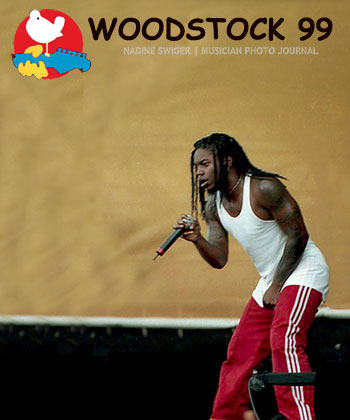 Starting out as a young southern band and staying true to their Atlanta roots (photo above from one of their first tours), it wasn't long for Sevendust to gain a strong and solid fan base. They released their self-titled debut album on April 15, 1997 and hit the road with bands like Coal Chamber, Limp Bizkit and Clutch. They landed a spot on the 1998 Ozzfest, soon after performing at the Dynamo Open Air festival. They would release their first live footage compilation, Live and Loud, from their Septemeber 1998 performance in Chicago. Continuing to expand their fan base, their debut album reached gold status in 1999. That summer, they were one of 45 bands that would partake in WoodStock 99 in Rome, NY. It seemed that a lot had happen to these boys from Atlanta in such a short time, yet this was all just the beginning of what would be to come.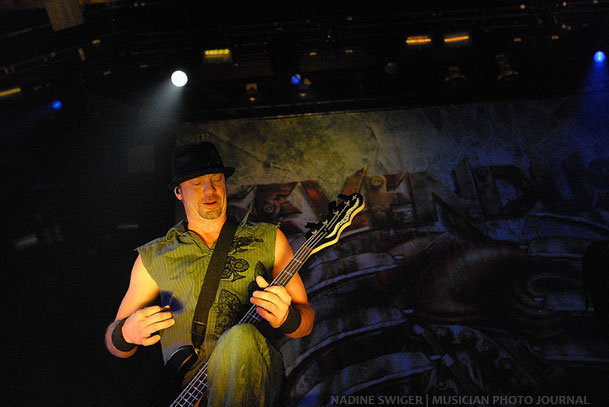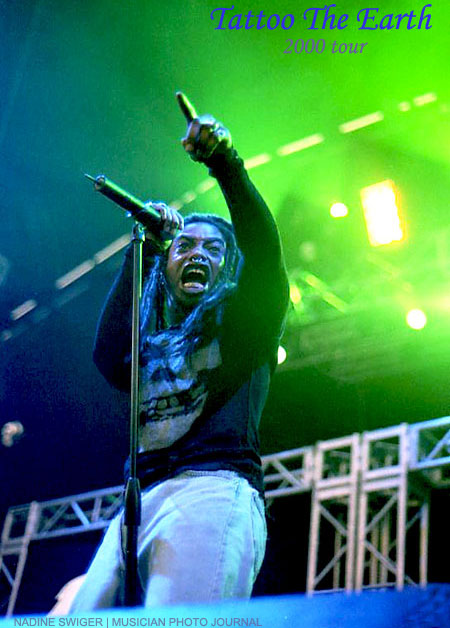 In the Fall of 1999, Sevendust would release their 2nd album, Home, which featured guest vocals from Skin (Skunk Anansie) and Chino Moreno (Deftones). That album produced the unstoppable hits, "Denial" and "Waffle." They gain great exposure when they toured with bands like Korn, Staind, Nonpoint, Godsmack, Mushroomhead, Creed, Kid Rock, Disturbed, and Metallica. In the summer of 2000, they hit the road as part of the Tattoo The Earth tour, featuring the hottest bands of the American Metal scene including Slipknot, Sepultura, Slayer, Mudvayne, Otep, Nothingface, COLD, Hed P.E. and more. The band made national tv appearances on Late Night with Conan O'Brien and Late Night with David Letterman.
November 2001, the band released their third album, Animosity. They continue to break ground, as they make their song, "Angel's Son"a tribute to the late, Lynn Strait , the vocalist of Snot and a dear friend to the band who died in a car accident. A compilation album  in memory of Lynn, "Strait Up" was released, which included Sevendust's song "Animosity."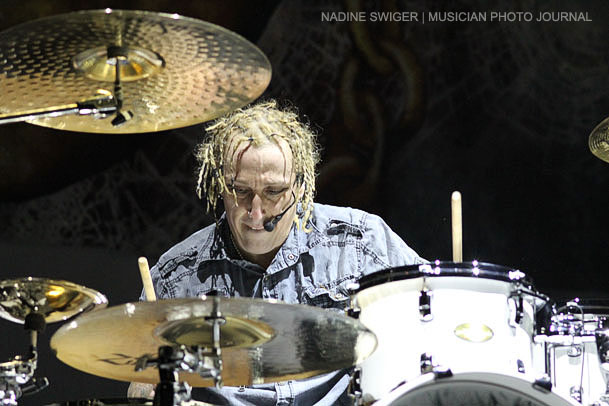 The band continued to tour that summer, playing several festival and radio shows, including the central New York's biggest radio festival KRockathon (2001).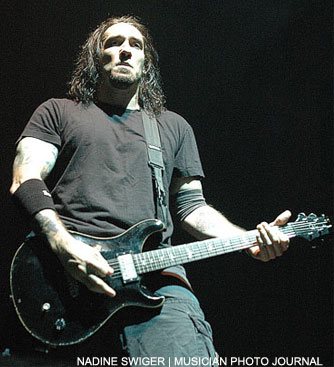 In 2002, the band took a well deserved year off. It came, unfortunately, due to a personal tragedy that took place for lead vocalist, Lajohn Witherspoon as his younger brother was killed.
In 2003, They came back strong with their 4th studio release, "Seasons" which include the singles, "Enemy" "Broken Down" and "Face to Face."  By the end of 2004, it was announced that guitarist Clint Lowery was departing the band; filling those shoes was Sonny Mayo (from Snot and Amen).
The 2005 year would bring album #5, "Next" to the table released on a new record label. The album produced the singles "Next" "Ugly" and "Pieces" which also was on the soundtrack for Saw II.
The band would continue to tour the rest of that year. Album #6 "Alpha" would hit stores in 2007, giving Sevendust the highest ranked album in first week of sale.  Just before Christmas, they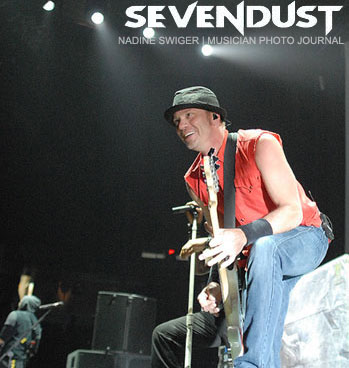 would release Retrospective 2, a CD/DVD combo. The fall of 2007, they would return to the studio to record album #7, "Chapter VII: Hope & Sorrow" (Spring 2008 release) which includes "Prodigal Son." Just before they headed back out on tour, Clint Lowery would return, bringing the original line-up back to the stage as they went on the road with Black Stone Cherry (end of 2008) and with Disturbed (early 2009).
They went back into the studio to record "Cold Day Memory" which appeared on the store shelves in April of 2010. The band continued to headline tour that spring and join forces with Shinedown, Puddle Of Mudd, Chevelle and 10 Years for the Carnival of Madness Tour.
In Jan 2011, Sevendust was part of the Music As A Weapons Tour 5, with  Disturbed, Korn and In This Moment .  Still touring strong, in the Spring of 2011, they went on tour with Avenged Sevenfold and Three Days Grace. This summer, Sevendust will hit the road again, first headlining with Adelitas Way and then will join the 2011 UpRoar tour featuring Avenged Sevenfold, Three Days Grace, Seether, Bullet For My Valentine and many more. Below you will find the following dates.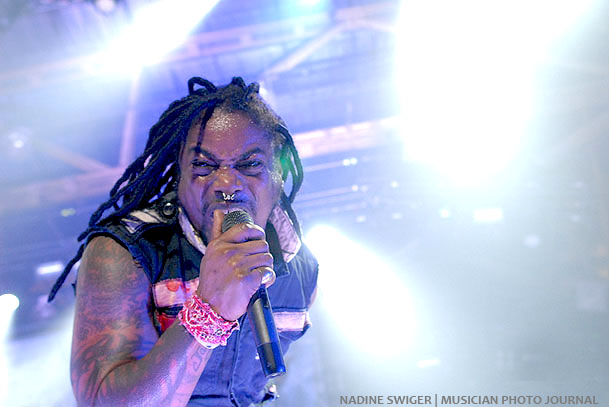 TOUR DATES: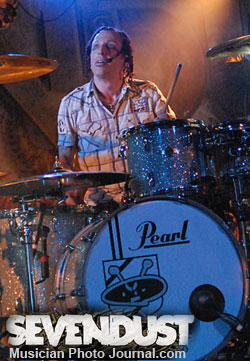 8/26 Camden, NJ @ Susquehanna Bank Center
8/27 Scranton, PA @ Toyota Pavilion
8/28 Boston, MA @ Comcast Center
8/31 Washington, DC @ Jiffy Lube Live
9/3 Tampa, FL @ 1-800-ASK-GARY Amph.
9/4 Biloxi, MS @ Mississippi Coast Coliseum
9/5 Houston, TX @ Cynthia Woods Mitchell Pavilion
9/10 Buffalo, NY @ Darien Lake PAC
9/11 Hartford, CT @ Comcast Theatre
9/14 Toronto, ON @ Molson Canadian Amph.
9/16 Pittsburgh, PA @ First Niagara Pavilion
9/17 Indianapolis, IN @ Verizon Wireless Amph.
9/21 Cleveland, OH @ Blossom Music Center
9/23 Omaha, NE @ WestFair Amph.
9/24 Kansas City, MO @ Sandstone Amph.
10/9 San Diego, CA @ Cricket Wireless Amph.
__________________________________________________________________________
FOR MORE INFORMATION ON:
SEVENDUST : www.sevendust.com
__________________________________________________________________________
Check out MPJ's previous coverage of Sevendust:
– SHOW REVIEW – PHOTO GALLERIES :
April 30, 2011 – Tour with Avenged Sevenfold
Jan 23, 2011 – Music As A Weapons Tour
August 2010 – Carnival Of Madness Tour
May 2010 – Headlining Tour with Hail The Villian, Saving Abel, Selfish Needy Creatures
April 2009 – Tour with Black Label Society, Dope, Infinite Staircase
Feb 2009 – Tour with Disturbed, Skindred
2001 – K Rockathon (more to come)
2000 – Tattoo The Earth (more to come)
1999 – Woodstock (more to come)
1998 – Tour with Gravity Kills (more to come)
1997 – Rochester NY
– VIDEO INTERVIEWS :
2010 – Lajohn Witherspoon (Vocalist)
2009 – Morgan Rose
__________________________________________________________________________