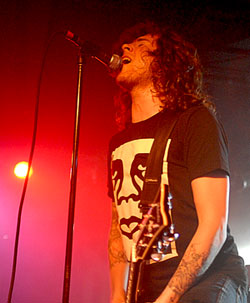 Review By: Elle Tourjamn – Photos By: Nadine Swiger
Outside, the night was dark, wet and cold but inside Northern Lights Club in Clifton Park, New York, it was hotter than hell when The Devil Wears Prada took the stage. I was entranced as they leapt onto the steamy stage,  full of youthful energy and exuberance. Their performance overall was very energetic and charismatic, making me wonder whether or not this Ohio Christian metalcore band has sold their souls to the Devil after all.
To have come so far so fast (the band was first formed in 2005) it may seem that other forces certainly are at work, but I assure you, that is not the case. While it is true that they are very talented and undeniably charismatic, it is equally obvious that they have put in the time and effort to make themselves into the iconic band they are becoming today. As the Devil Wears Prada headbanged on stage in unison, the unnaturally bright stage lights cutting through the mist that hung in the air like a foggy night on the beach in Maine, I reminisced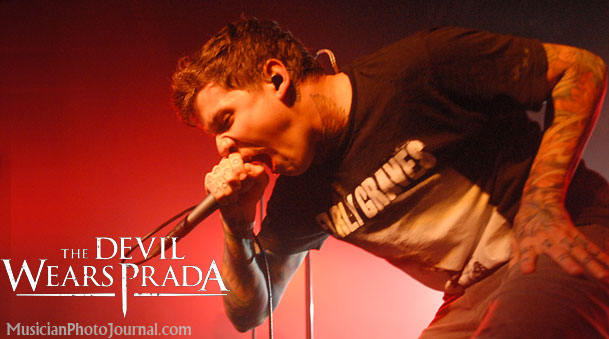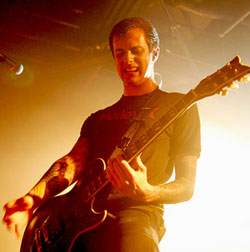 about Dark Tranquility's Euro-metal style when the Swedish Viking look-alike band head bangs all together in sync.
Very clever of Devil Wears Prada to emulate that powerful, mesmerizing  style, I thought to myself. Its like Euro-metal Americanized, and what better band to pull it off than these Devil-may-care attitude, in your face whether you like them or not they are here to stay band! I loved the show and came near to band worshipping myself. So who needs materialism, Gucci shoes or a Prada scarf? The chance to see The Devil Wears Prada perform their quirky metal magic begs the question, what more could anyone ask for?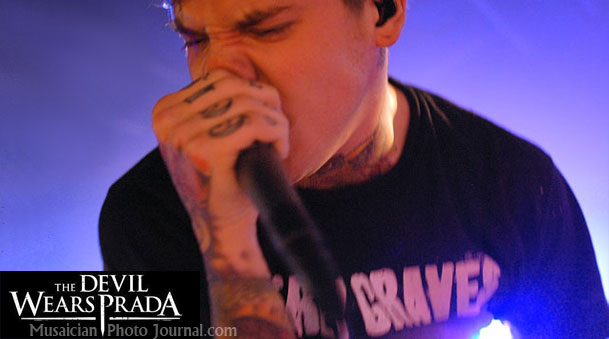 Catch them if you can:
4/8 – Los Angeles, California
4/17 – Toledo, Ohio
5/2 – East Rutherford, New Jersey
5/9 – Sao Paulo, São Paulo
5/11 – Buenos Aires
5/12 – Santiago
5/14 – Lima
5/15 – Bogota
5/16 – Caracas
6/18 – Wilkmore, Kentucky
6/19 – Cordova, Tennessee
6/25 – Mineral City, Ohio
6/26- Gaylord, Michigan
7/2 – Milwaukee, Wisconsin
7/3 – Marietta, Illinois
7/17 – Willmar, Minnesota
8/5 – Midland, Texas
____________________________________________________________________
PHOTO GALLERIES FROM SHOW:
____________________________________________________________________
For more information on:
THE DEVIL WEARS PRADA :