Review by: Elle Tourjman Photos by: Nadine Swiger
On March 20, 2010 Dark Tranquillity, Cro-Mags and Killswitch Engage lit up the stage at Northern Lights in Clifton Park, New York.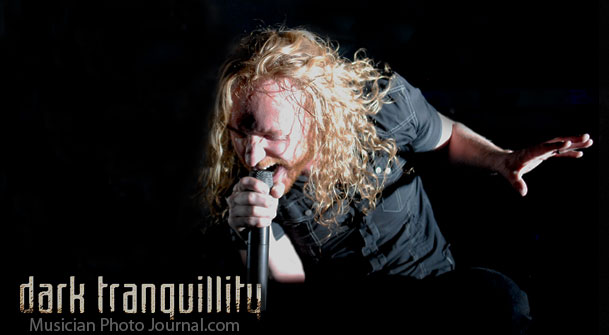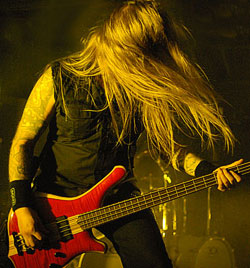 First up was Dark Tranquillity. These m elodic death metal boys from Gothenburg, Sweden looked like what I would imagine modern day Vikings would aspire to. As I watched them perform, I could not help but feel a taste of what Medieval Europe must have felt when the first Vikings set foot on their land. Dark Tranquillity was mesmerizing as they head banged in near perfect unison, the harsh stage lights glinting off their pale skin, blue eyes and long blonde hair. Their music was pretty, foreign, melodic, haunting and fierce! While no Viking ship managed to materialize onstage during their set, the general feeling among the crowd was one of being transported to a great Viking Hall while warriors sang their battle songs. Dark Tranquillity is notably one of the longest-standing bands from the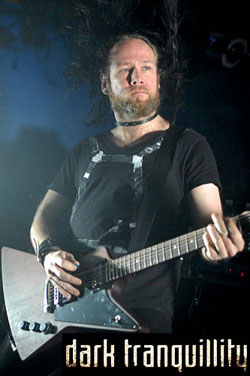 original Gothenburg metal scene and with good reason. They are talented, fierce and charismatic with a touch of Viking blood that makes men want to be them and women want to be with them. They are out in support of their newest album titled "We Are The Void". Other Tour Dates Include:
SUMMER FESTIVALS:
19 Jun – Metaltown, Swe
Jul 4 – With full force, Germany
Jul 8 – Getaway Rock Festival, Gävle, Swe
Jul 17 – Tivolirock, Kristianstad, Swe
Aug 19 – Summer breeze festival, Ger
Where Death Is Most Alive part II, 2010
w/ INSOMNIUM + support tbc
Sep. 23 – Hamburg, Gruenspan, Germany
Sep. 24 – Leipzig, Conne Island, Germany
Sep. 25 – Munster, Sputnikhalle, Germany
Sep. 26 – Köln, Essigfabrik, Germany
Sep. 27 – Tilburg, 013, Netherlands
Sep. 28 – London, Underworld, UK
Sep. 29 – Vosselaar, Biebob, Belgium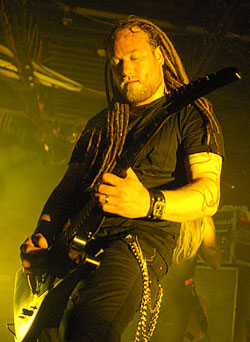 Sep. 30 – Paris, Trabendo, France
Oct. 01 – Montpellier, Salle Victoire 2, France
Oct. 02 – Bilbao, Rockstar, Spain
Oct. 03 – Porto, Teatro Sá da Bandeira, Portugal
Oct. 04 – Lissabon, Incrível Almadense, Portugal
Oct. 06 – Madrid, Sala Heineken, Spain
Oct. 07 – Barcelona, Razz 2, Spain
Oct. 08 – Lyon, CCO, France
Oct. 09 – Lausanne, Les Dock, Switzerland
Oct. 10 – Bologna, Estragon, Italy
Oct. 11 – Rom, Alpheus, Italy
Oct. 12 – Milano, Magazini Generali, Italy
Oct. 13 – Zagreb, Boogaloo, Croatia
Oct. 14 – Budapest, Duerer Kert, Hungary
Oct. 15 – Wien, Szene, Austria
Oct. 16 – Ljubljana, Gala Hala/Media Park, Slovenia
Oct. 17 – Graz, Orpheum, Austria
Oct. 19 – Stuttgart, Röhre, Germany
Oct. 20 – Luzern, Schuur, Switzerland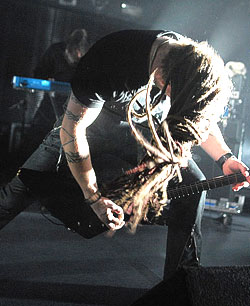 Oct. 21 – Frankfurt aM, Batschkapp, Germany
Oct. 22 – München, Backstage, Germany
Oct. 24 – Berlin, Lido, Germany
Oct. 25 – Malmö, KB, Sweden
Oct. 28 – Jyväskylä, Lutakko, Finland *
Oct. 29 – Oulu, Teatria, Finland *
Oct. 30 – Seinäjoki, Rytmikorjamoo, Finland *
Oct. 31 – Tampere, Klubi, Finland *
Nov. 01 – Helsinki, Nosturi, Finland *
Nov. 02 – Turku, Klubi, Finland *
Nov. 04 – Stockholm, Medis, Sweden *
Nov. 05 – Örebro, 700, Sweden *
Nov. 06 – Oslo, John Dee, Norway *
Nov. 07 – Göteborg, Trädgån, Sweden *
* without Insomnium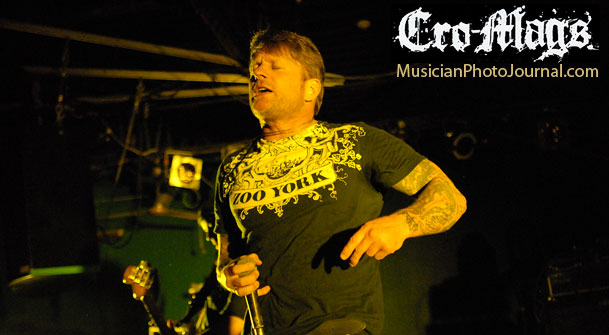 Next onstage was the ever famous and equally infamous band Cro-Mags! Truly worthy of the name "A Band's Band" Killswitch Engage came out to watch backstage as Crossover Thrash Band and New York hardcore music icons Cro-Mags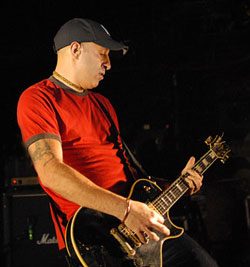 played their set. Cro-Mags were among the first bands to fuse hardcore punk with thrash metal back in the 80's, paving the way for most punk-metal crossover bands today. Cro-Mags are legendary for their unique, hardcore metal do-or die sounds, their violent punk attitudes, their push into the Hare Krishna movement in the hardcore metal scene and inevitably, as all great bands must, their explosive band break-up. It was great to be able to see them perform alongside other legendary, talented and great artists, and hopefully this tour will herald a new beginning to what was once a bitter end to an iconic band that no one can ever forget.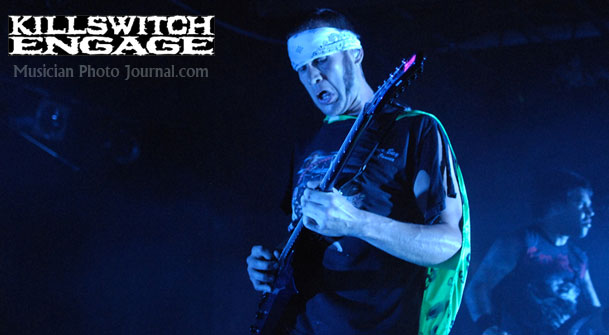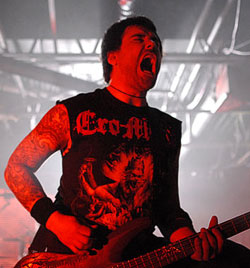 A fitting end to a killer line-up, Massachusett's metalcore band Killswitch Engage took the stage with an opening ode to Ferris Bueller's Day Off with the light screen in back spelling out the words "Oh Yeah!" while Adam D. hoped around onstage, complete with a bright green blingin' cape. You could feel the crowd band worshipping as the rest of KSE took their places onstage. The crowd went wild as the band played song after song with a smooth, startling yet tasteful style that understandably has earned these boys their place among the tops ranks in the music metalcore scene. This is one band that really knows how to perform and play to their crowd, while having fun just being true to themselves.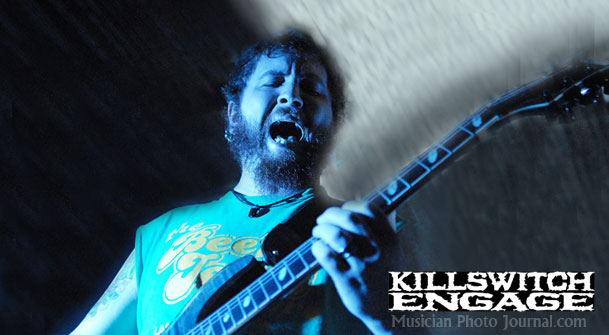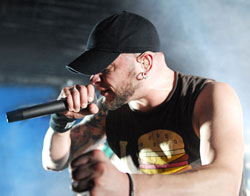 Adam D. introduced the band as being "Phil-switch Engage" in good humor, in part due to all the nasty rumors flying around the internet. I imagine calling their performance of the night "Killswitch Karaoke" was just another way to soften the blows of nasty internet comments and uncontested, unfounded and mostly pointless rumors circulating around the band this tour. Bottom line: the band sounded fantastic, perhaps even better than ever as they sang their hearts out for the crowd, giving 110% of themselves for their fans. You have to appreciate their good humor and good attitudes in spite of everything that has gone wrong on this tour. I can't wait until their next album comes out, but in the meantime I will keep their latest album, Killswitch Engage in my top 10 ipod list.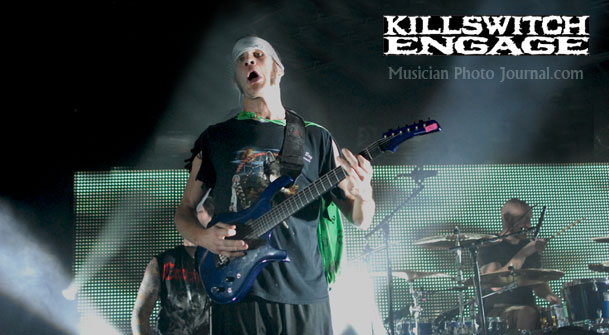 PHOTO GALLERIES FROM SHOW:
____________________________________________________________________
For more information on:
DARK TRANQUILLITY :
CRO-MAGS :
KILLSWITCH ENGAGE :