This week's throwback Thursday takes us back to the fifth Warped Tour at The Saratoga Speedway in 2000. The headliners were Green Day, AFI and Dilated Peoples. This was my first time at a warped tour. Four stages were more than what I had seen before and it was a lot of hustling from stage to stage to photograph as many artists as I could.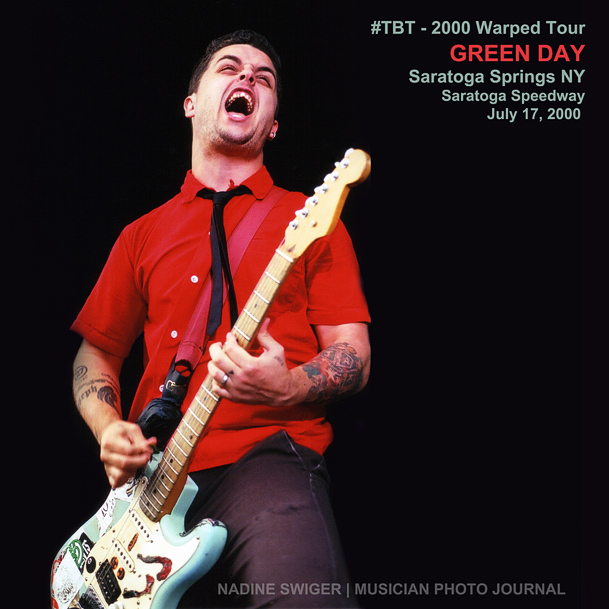 The whole day really seemed rushed for me but the bands that I remember really standing out was the newer up-n-comer – One Minute Silence. I remember sticking around an extra song cause I hated to leave the stage. I was fortunate to catch them two more times that fall.
Others that day that stood out was MxPx, The Mighty Mighty Bosstones, and of course AFI and Green Day. This was my first time seeing all those bands, so I didn't know exactly what to expect from their shows. They lived up to the buzz that surrounded them!
When I look back on covering the Warped Tour… It was a tiring day but a satisfying and a great day overall!
The 2017 Warped Tour is set to kick off June 16 in Seattle, WA. The tour will continue across North America and the final show will be Aug 6 in Pomona, CA. (See Dates and Links below).
Green Day is currently out on tour in support of their latest album, "Revolution Radio." They have a hand full of dates in the USA before heading down under to Australia and New Zealand. From there, Green Day will head to Europe before returning to do a full North America tour in Aug/Sept. For latest dates, please visit their websites listed below.
__________________________________________________________________

TOUR DATES :
.
2017 WARPED TOUR
6/16 SEATTLE, WA
6/17 SALEM, OR
6/21 ALBUQUERQUE, NM
6/22 PHOENIX, AZ
6/23 LAS VEGAS, NV
6/24 SALT LAKE CITY, UT
6/25 DENVER, CO
6/27 NASHVILLE, TN
6/28 METAIRIE, LA
6/29 ATLANTA, GA
6/30 ORLANDO, FL
7/01 ST. PETERSBURG, FL
7/02 WEST PALM BEACH, FL
7/04 WILMINGTON, NC
7/06 CHARLOTTE, NC
7/07 CAMDEN, NJ
7/08 WANTAGH, NY
7/09 HARTFORD, CT
7/10 SCRANTON, PA
7/11 VIRGINIA BEACH, VA
7/12 MANSFIELD, MA
7/13 DARIEN CENTER, NY
7/14 BURGETTSTOWN, PA
7/15 HOLMDEL, NJ
7/16 COLUMBIA, MD
7/18 CUYAHOGA FALLS, OH
7/19 CINCINNATI, OH
7/20 NOBLESVILLE, IN
7/21 AUBURN HILLS, MI
7/22 TINLEY PARK, IL
7/23 SHAKOPEE, MN
7/24 MILWAUKEE, WI
7/26 MARYLAND HEIGHTS, MO
7/27 BONNER SPRINGS, KS
7/28 DALLAS, TX
7/29 SAN ANTONIO, TX
7/30 HOUSTON, TX
8/01 LAS CRUCES, NM
8/04 MOUNTAIN VIEW, CA
8/05 SAN DIEGO, CA
8/06 POMONA, CA
________________________________________________________________________
LINKS:
WARPED TOUR : vanswarpedtour.com
_____________________________________________
GREEN DAY : greenday.com
_____________________________________________
_________________________________________________________________