REVIEW BY: HEATHER PENFIELD MACNEILL | PHOTOGRAPHS BY: NADINE SWIGER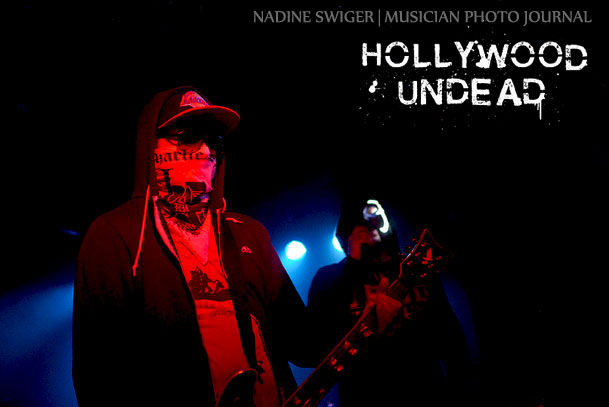 Northern Lights in Clifton Park NY had itself a sick little rap rock, metalcore sandwich this past Friday, July 22nd , with the metal All That Remains sandwiched in between the rap based Hyro Da Hero and those California bad boys, Hollywood Undead. The crowd never seemed fazed by any musical genre changes; however, with the sweaty mass begging for more with each passing song like they just couldn't get enough throughout the entire night. Insane temperatures didn't stop fans from camping out on the burning pavement hours before the show even started, and these hardcore fans, many of them female, seemed primed to rage before any bands even took the stage. Where some lineups have the audience trickling in, these bands had the house packed in from the very start.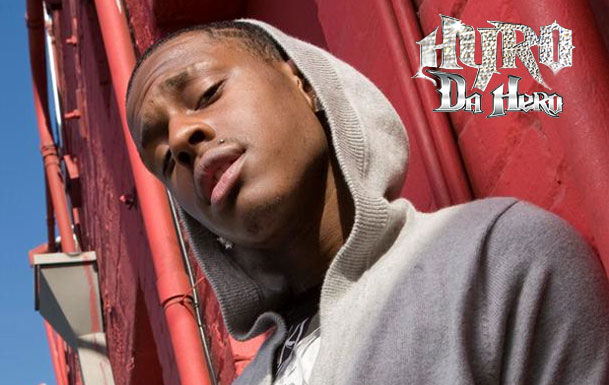 Up first was Hyro Da Hero. Hyro's shared the stage with 50 Cent, Cypress Hill, Deftones, Staind, Halestorm, Hatebreed and many other rap and rap rock bands so you know he's got the power to kick off the evening right. His first official debut album "Birth, School, Work, Death" was produced by Ross Robinson, the man known as "The Godfather of Nu Metal," and discoverer of such bands as Korn, At the Drive-In, Limp Bizkit, and Slipknot. With a debut like this you know great things are in store for Hyro Da Hero. Known for his live performances, Hyro was able to bring out all the energy that was just waiting underneath the surface of the crowd, priming them for the full-on raging that was to come. And rage they did.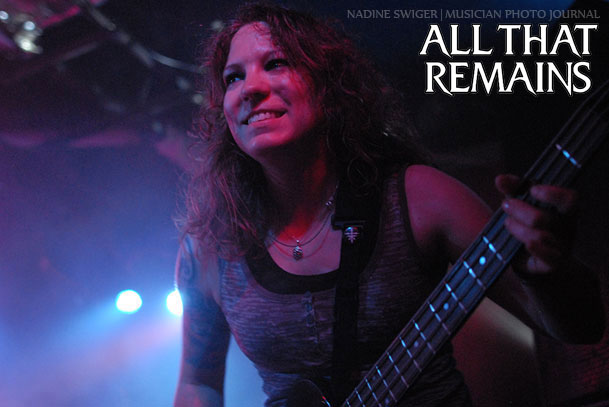 All That Remains stormed in next with a force that was ready to defy the heat and feed the audience's energy. Despite the fact that people were now plastered up against each other, a mosh pit instantly ensued the minute Phil Labonte started in with his trademark growling vocals. It wasn't long before vicious, nonstop crowd surfing began, and the band looked like it was loving every minute of it. All That Remain's has been out relentlessly touring and promoting their most recent album "For We Are Many," even pressing on through some pretty nasty natural disasters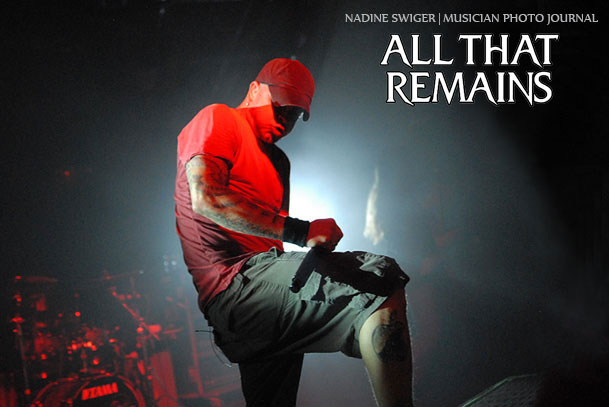 like tornadoes out west and the deadly earthquake in Japan. All That Remains was actually onstage in Japan doing a sound check when the earthquake struck. But despite the severity of the quake, the band still performed the Tokyo show as planned with an extremely small but grateful audience. And it is this kind of guts and determination that can be seen in the power of their live performances. In our interview with guitarist Mike Martin, which can be found here, Mike talks a bit about the earthquake and also explains that this tour is a little different in that it has had a very large female audience. There was certainly no doubt that female representation was strong that night! The ladies were definitely holding their own, moshing and crowd surfing with the boys and blowing out their vocal cords like the best of them. All That Remains is definitely a band that needs to be seen live to experience the full power of what this band has to offer, and to experience the fervor of the crowd response. And this wasn't even all the crowd was ready to give that night.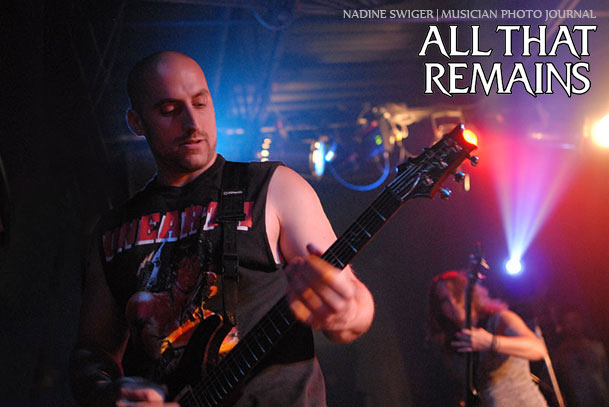 With all the heat coming off these kids, and the air thick to the point of being a liquid, you would have thought Northern Lights just couldn't get any hotter, but the crowd still raised it up a level when Hollywood Undead swaggered onto the stage. Right away you could see the confidence coming off these boys that they were going to wow this crowd. Even with all the madness that is a Hollywood Undead performance, they have a kind of nonchalant command of the stage which shows they just know that they are going to wreck the place.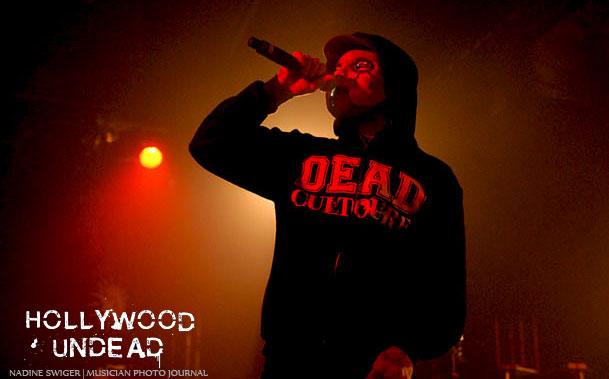 Hollywood Undead first started commanding attention with their debut album "Swan Songs" in 2008. The album has exceeded sales of 800, 000 at this point and is nearing platinum status. In April 2011 Hollywood Undead released their brand new album American Tragedy which sold 66,000 copies in the United States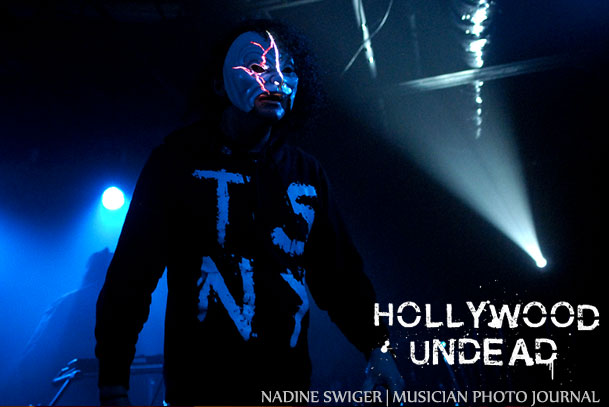 alone, no easy feat in this day of downloading and file sharing. It is obvious these boys are just going to keep getting bigger, and they know it, and it is clear the audience knows it. Even if you are not a fan, with so many frontmen and the band's wild stage antics it is an undeniably memorable performance. Go to a Hollywood Undead concert and you will be entertained. Catch this tour as it continues to blaze its way across the United States. You will not be disappointed.
__________________________________________________________________________

PHOTO GALLERIES:
* ALL THAT REMAINS :: PHOTO GALLERY
* HOLLYWOOD UNDEAD :: PHOTO GALLERY
__________________________________________________________________
For more information on :
HYRO DA HERO : www.hyrodahero.com
_________________________________________________
ALL THAT REMAINS : www.allthatremainsonline.com
_________________________________________________
HOLLYWOOD UNDEAD : www.hollywoodundead.com







__________________________________________________________________