Review By: Brian Cross | Photographs By: Diana Guay
Retro metal mayhem hit the Webster Underground in Hartford, CT on May 2, 2011, when Holy Grail and Cauldron came calling. It may have been a sleepy Monday night in town, but that didn't stop the bands from putting on a stellar performance.
Kicking things off were local acts Vicious Winter and Shallow Ground. The former was a deathcore band, and seemingly brought their own fan club. Nothing wrong with that, though, as this group of kids had no problem forming their own mosh pits. (More importantly, the fans stayed around for the entire show.) Shallow Ground followed up by bringing some classic thrash to bear, further warming up the crowd and getting fans pumped for what was to come.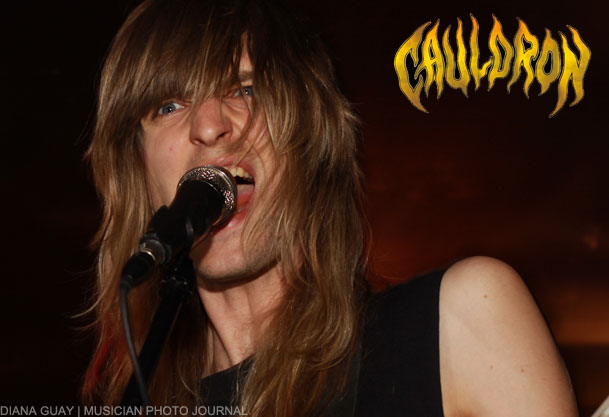 At this point, the venue transported the entire crowd back in time to the year 1983. Well, maybe not, but it sure as hell felt that way. Toronto's Cauldron would've fit into that era perfectly, with their bass-heavy hard rock and metal. Their new record Burning Fortune just screams "classic metal," and their performance mirrored this. Cauldron may only be a trio, but they put out a powerful sound that bands twice their size would have trouble matching.

And then…there was Holy Grail. The California thrashers burned the crowd's faces off with their high-octane riffing and impressively complex arrangements, truly making the stage their own. The band performed just about every song off of their debut album Crisis in Utopia, and even threw in the non-album track "For All Eternity" for good measure. Holy Grail was absolutely on fire from beginning to end, never letting up the metallic barrage for a single moment.
There was only about forty people in attendance, but to the bands' credit, they all played as if it was a packed arena. There's been much ado about the New Wave of Traditional Heavy Metal, but if bands like Cauldron and Holy Grail are at the forefront, this is one retro movement we should all get behind.
__________________________________________________________________________
For more information on
HOLYGRAIL : holygrailofficial.com
______________________________________
______________________________________
Shallow Ground : shallow-ground.com
__________________________________________________________________________