Review By: Brian Cross | Photos By: Diana Guay
It is said that nothing can adequately prepare you for a Devin Townsend performance, and this fact was solidly demonstrated when the Canadian musical genius brought his eponymous Devin Townsend Project to the Palladium's upstairs venue in Worcester, Massachusetts on October 29, 2010.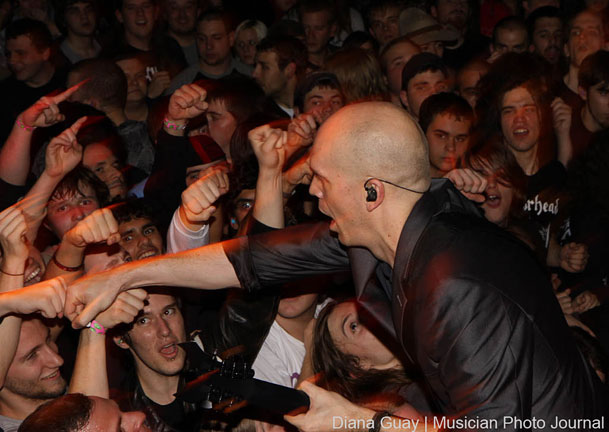 Before the madness descended, however, we had British progressive metallers TesseracT taking the stage. This band may be newcomers to the scene, but their live performance is that of seasoned veterans. Mixing progressive metal with a distinct modern rock edge, TesseracT are well on their way to stardom if the crowd's overwhelmingly positive reaction was any indication.
During the set change, the audience was treated to Ziltoid Radio Z95.3 playing over the loudspeakers. Townsend's alien creation (from the "Ziltoid the Omniscient" album released in 2007) functioned as a DJ spinning his favorite tracks. Of course, Ziltoid's picks were about as far from the metal sphere as one could get, with such hits as Aqua's "Barbie Girl" and Beyoncé's "Single Ladies." Fortunately, the crowd laughed along with it, never devolving into a stereotypical throng of metallic rage.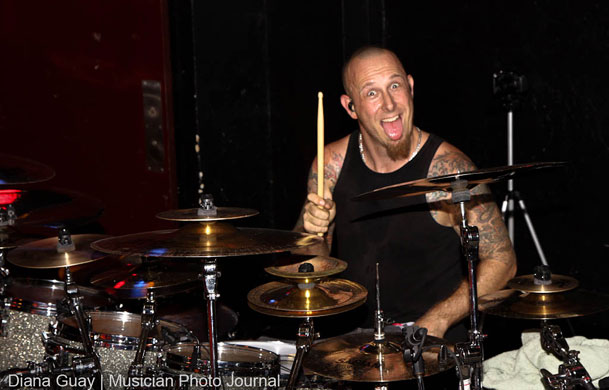 Townsend and his bandmates soon hit the stage to thunderous shouts and applause. By this point, the venue was packed wall to wall, and Townsend did not disappoint the legions of fans that showed up to support his unique brand of metal. Townsend played a wide selection of material from his long solo career, with a majority of the songs coming from his most recent release "Addicted" and the aforementioned "Ziltoid." One of the most memorable portions of his performance was "Bend it Like Bender!", a Europop-inspired track off of the last album. Not only did Townsend bring out special guest Mark Cimino (who played guitar on the "Addicted" record), but the frontman also invited multiple fans to jump onstage and dance around like fools.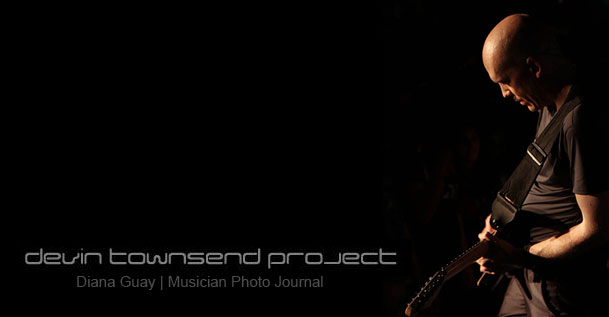 Townsend is renowned for his onstage banter, as he loves to interact with the crowd, poke fun at himself and his fellow musicians, and offer commentary on whatever suits his fancy at the time. Of particular note during this performance was when he asked if the crowd was better than that of New York, where he'd performed the night before. As you might've guessed, Worcester is definitely Boston Red Sox territory, so any mention of New York always results in a rousing "Yankees SUCK!" chant. In response, Townsend simply asked if there were any Vancouver Canucks fans out there before offering his own amusing views on hockey and sports in general. His comedic wordplay even continued into his music, as Townsend inserted extra lyrics and random one-liners into "Bad Devil" and "By Your Command."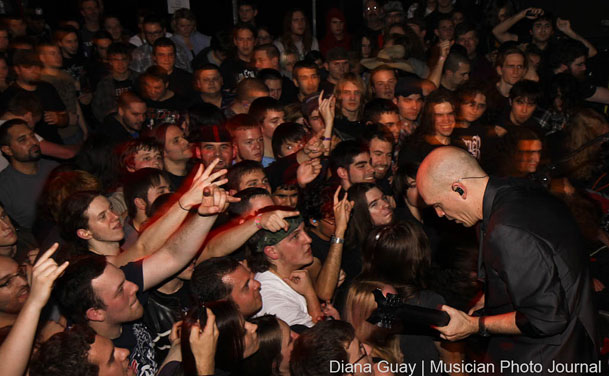 A pair of drunken fans continually belted out requests for "Love?", a popular Strapping Young Lad song. Townsend does not play any SYL tracks on his solo tours, as that band was more than just himself; plus, he's obviously moved on to other projects. Most of the crowd was well aware of this, but these two clearly missed that memo. Much to the crowd's enjoyment, Townsend himself put an end to the heckling by making fun of them before closing out the evening with "Deep Peace."
With two more Devin Townsend Project albums coming in 2011, we can only hope for additional tours to follow. A Devin Townsend performance is a unique event, and not one to be missed.
_______________________________________
For more information on:
DEVIN TOWNSEND PROJECT : hevydevy.com
_______________________________________
Video for "Bend It Like Bender!" – The Devin Townsend Project :